The Lean-To
January 18, 2009
From time to time I find myself venturing back into the woods. I sit on my tree and look down on my older brother's lean-to fort. It's huge, massive, the size of a small house. He built it by himself, almost. Theo and I helped him collect fallen down trees and logs sometimes. Theo was usually busy with his tipi. It took him a while to get it so it wouldn't fall down. And I would just sit in my tree, watching them work. I also kept my eye on the dogs.

When Peter and Theo got tired of playing playstation, Peter would go outside, not saying a thing, and we would follow. We'd be out there in the woods for hours, until mom came home and hollered. We'd come back to eat and go back out till it was dark. After the lean-to was finished, Peter never went back. Except once when he took mom to see it. She was impressed.

Peter moved back to NY because he was the oldest and he had always strayed from our mother, so it was no surprise. None of us could handle the move, and I was jealous that he got to go back home. Theo, my mom and I moved out of the rental house, across the street into our new two story home.
It wasn't until now that I realized why we went into the woods that winter. There was too much pain, more than we could cope with. We were promised paradise, but when we got to NC we lived in a broken down, disgusting house. We were so broke, we ate everything we could find in the kitchen cabniets. We were far away from home, our father, the rest of our family, our friends, our whole life was gone. The woods gave us something to do, something to take our mind off everything. And that's why Peter lead us there.

That was two years ago. When I miss him I go back in my tree and sit for a while. But they tore the woods down. Bet they had a hard time destroying that lean-to. Now we have a beautiful view of the rolling hills instead of the woods. Still, it's not the same.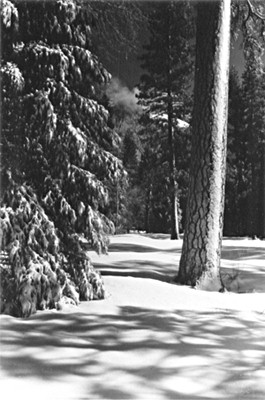 © Steve S., Marblehead, MA