The Politics of Persuasion
February 21, 2019
Ads are absolutely everywhere, and they drive us crazy! People are either on their devices or driving down a road or walking around town or even watching TV and an ad will pop up. We groan, we grumble, but we still go out and buy those products. Why do we do that? It turns out that advertisers have a toolbox of strategies they use with us, and political campaigns know. Strange, isn't it? You typically don't think of McDonald's or Nike advertising having any sort of similarities with your typical political ad, but they are fundamentally very similar. Politicians take notes in what techniques are used to convince consumers and they use the same methods to persuade voters. These include humour, playing with our emotions and perceived value. Wait, what was that again? You think as you're reading this. Perceived value? What does that even mean? To put it simply, perceived value is what advertisers (or campaigns) think you want. It makes sense, doesn't it? Now you have a name to a face because we have that lingering feeling that advertisers are using this 'superpower' on us. Most regular advertisements use celebrity appeal, which is when they bring in celebrities to promote their product, to convince consumers. Political ads are a little different. Instead, they use humour, emotions and perceived value to win over our votes.

I know what you're thinking. Humour? Politics? Those don't typically go together. The risky politicians among us toss that stereotype aside and decided to air ads that were meant to be funny. Take former Senator Heidi Heitkamp (D-ND) as an example. She knew that her 2018 midterm re-election race would be tough considering that she was a Democrat running in a red state. She knew that she had to grasp the public's attention and needed to stop people from voting for her opponent Kevin Cramer. The question was, how? Her response? Humour.
She aired an ad called Laundry where she brought in her siblings to talk about her. Rather than just have a regular, forgettable ad, she twisted the idea a bit. Her siblings shared a personal anecdote about how resourceful the Senator was as a child and how dedicated she was when she was doing the laundry. Senator Heitkamp appeared very confused as her siblings told, plugging in funny commentary like "What is this laundry thing?!" and "This is not good." At the end of the ad, she said "I'm Heidi Heitkamp, and I can't believe I approve this message." This served as the icing on the humorous ad cake. Not every politician pulled off humour quite like Senator Heitkamp did, a good majority of them didn't work very well. Dan Helmer is a paragon of this. Dan Helmer ran in the Democratic primary for Virginia's 10th Congressional District. He was behind in the polls and his campaign needed a boost. That boost was a funny, memorable ad. He delivered on that, airing an ad where he's at a karaoke night, badly singing a parody of You Lost That Loving Feeling with his centrist message weaved in the lyrics. The others in the restaurant started singing along towards the end of the ad, but the advertisement was ridiculed in the media. Was the ad funny? Yes, but the reason why is debatable. It was either genuinely funny or funny because it was just so terrible. Was the ad effective? No, he came fifth in the Democratic primary.
Did this ad and his campaign gain national attention? Yes. Helmer isn't the only candidate to have this effect with his ads, Basil Marcaux (R-KY) found himself in a similar situation. He was running for the Republican nomination for Governor of Kentucky in 2010 and was largely seen as a joke candidate. In his advertisements, he deliberately oversimplified his 'outlandish' policies and a lot of the language can be considered laughable. Some might even go so far and decide to call it stupid.
However, Marcaux's campaign did generate a lot of media attention. Do most candidates use humour in their ads? No, it has proven to be ineffective as most candidates who go that route typically lose. Does it generate lots of media attention?
Yes.

Okay, you think. So what's a more reliable method for political advertising?
One word, emotions. More specifically, fear and negativity. Unfortunately, fear is one of the greatest motivators in politics. To persuade voters, campaigns use negative ads to make themselves look better and feel resentful to the opponent.
These advertisements were used all the time during the 2016 presidential campaign. During the Republican primary, Ohio Governor John Kasich was against Donald Trump and they attacked each other quite often. The Kasich campaign aired a negative ad attacking Donald Trump, highlighting his shortcomings and specifically condemning his rhetoric. When the general election rolled around, former Senator and Secretary of State Hillary Clinton (D-NY) didn't hold back and bite her tongue when it came to her feelings about Donald Trump. She released a series of ads on her YouTube channel, one of them titled "Role Models." She used Donald Trump's past public comments and statements, telling the viewers that their children were watching what they would do and she posed the question whether or not Donald Trump was a good role model for children. She used negativity and powerful visuals and language to convey her message. This technique of persuasion has been used for years, even going as far back as 1968. The Democratic nominee for President at the time, Hubert Humphrey (D-SD) aired an ad with a man laughing at his opponent Richard Nixon's (R-CA) pick for Vice President, then Governor Spiro Agnew (R-MD). Their idea was that the thought of Spiro Agnew becoming Vice
President was absolutely ridiculous and that it could be seriously dangerous, displaying in the end "It would be hilarious if it wasn't so serious." Politics can get ugly, and negativity is used during campaigns at least sparingly as they are practically a staple of today's political climate. While the examples I've given are all from losing candidates, most major politicians who have won elections have released negative ads. As former First Lady Michelle Obama put it, fear is a great motivator in politics.

Lastly, politicians use perceived value to hook us and to get us to go out and vote. The idea of a better future and the need for change is a textbook example of perceived value in political advertising. This technique is used all the time, even among first time candidates. What better example of an extremely popular first time candidate would there be than New York Democratic Congresswoman
Alexandria Ocasio-Cortez? In her first (and arguably most effective) television advertisement of her campaign against ten term incumbent Joe Crowley (D-NY), she told her story of who she was and what life was like in the Bronx and
Queens. She uses this story with perceived value; that being her ideas for change and that she believes the people of the 14th Congressional District want change.
That ended up working, the ad went viral and she pulled off a massive upset. During the 2016 Republican primary, Carly Fiorina (R-TX) was one of the 17 major candidates running for the Republican nomination. During the campaign, Donald Trump made comments about her looks and rather than cry about it, she aired an ad called "Faces" that is widely credited as one of the best ads of that election season. In the ad, she offers an empowering message to conservative message, refuting Donald Trump's comments and telling the Democratic Party that "we aren't a special interest group, we are the majority of the nation" and proudly declaring "This is the face of a sixty one year old woman, I am proud of each year and every wrinkle." With the ad, she thought that people wanted an empowering message for women and she delivered on that. In the 2018 midterm election season, Republican Kristi Noem was running against Democrat Billie Sutton to be South Dakota's next Governor. Noem ultimately ended up on top, but the race ended up being tougher than either candidate had expected. During the campaign, Governor Noem aired an ad titled "Trusted. Proven. Conservative." In it, she and others describe who she is and what she would do for South Dakota if she were elected. From this advertisement, a viewer could draw the conclusion that she believed that South Dakota voters wanted a strong conservative and she tried to prove herself to be just that. This is the main hook that advertisers use in any industry, this is a part of what tips you over the edge to go out and buy the product or vote for the candidate. In their ads, politicians tap into perceived value for votes.

Advertising comes in many different forms. However, these forms are more similar than you might think. Even though this is a risky tactic, politicians can use humour to hook voters, but they can also use fear and negativity for the same purpose. Lastly, they use perceived value to give us that final push to go to the polls. Strange, isn't it? It's crazy to think that the same toolbox that regular advertisers use to get consumers to buy their products is also used to get those same people to vote for a specific candidate. However, political ads are losing their place in campaigns. MSNBC host Rachel Maddow was revisiting the best ads of the 2016 election season and she lamented that "political ads don't matter anymore." Is that true?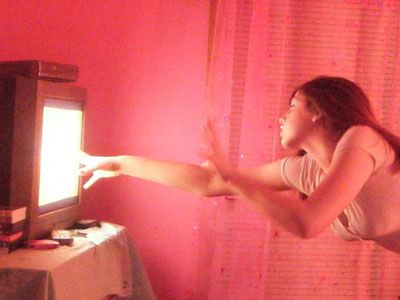 © Emily H., Marshall, MI