NO CHIPS!? (Schools vs. Child Obesity)
August 22, 2011
You and your friends stare in shock as three men load all the school's vending machines into a truck and leave the campus, taking with them your favorite snacks. Later in the day, during lunch, you notice that the cafeteria no longer serves fried chicken or pizza, serving healthier things like chicken caesar salad and corn. Ew.


Today, an alarming increase in childhood obesity has pushed schools to reconsider what they feed students during the day. In the UK, it is predicted that over 20 percent of 2-15 year olds will be obese by the year 2011. It is critical that we help prevent childhood obesity as it can create many health problems and can lead to early death through heart disease and stroke. Recently, many schools have cut unhealthy foods and drinks out of their menus and replaced them with healthier ones with smaller portion sizes in the effort to combat childhood obesity. They believe that serving a healthier breakfast and lunch will help students maintain healthy eating habits. Schools also hope that students take their habits home and tell their families.


Some people argue that we shouldn't target school meals and that it doesn't solve the problem because students could simply fill up on junk food outside of school. What they propose is a cafeteria system where students are informed about making healthy choices, but still have an option to eat as much as they want during lunch. Furthermore, many people mention that students engage in different activities, which means that they need to have balanced meals that are right for them. For example, a balanced meal for an athlete should include larger portions of sugar, fat, and salt. Therefore, the upbringing of children and the responsibility for what they eat must be left to the parents. Schools should just provide variety in the cafeteria and teach their students to eat healthily.


To me, a balanced situation seems to be one where schools get rid of obvious junk food like chips, soda, and chocolate, but provide a variety of food options. Students may even be discouraged from eating junk food because they don't see any of their friends eating junk food. They should also keep food portions at a decent level so that high school athletes wouldn't have to buy two lunches. Students can simply choose to stop eating, so big portions shouldn't be a problem. Schools must also effectively educate and encourage healthy eating habits so that students can make good decisions for themselves. Most importantly, schools should have more compulsory PE programs to make sure students have enough daily exercise to balance what they eat during breakfast and lunch and to improve children's fitness levels.


To truly fight childhood obesity, we need to change our food culture, which has been built up over many years. If everyone in the world stopped making chocolate, no one would eat chocolate, right? This kind of substantial change would involve the media, food retailers, and educators all playing a part to improve America's diet. Since it involves the cooperation of so many different people, it is unlikely that our food culture will change significantly in the near future, so schools, teachers, parents, and students should make a combined effort to keep America healthy until then.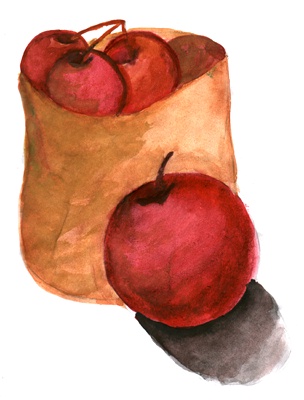 © HyungKyung L., Plymouth, MN