Prom Fashion 2013
March 6, 2013
Prom season is an exciting time for many in high school. Everyone wants to look perfect on the special night of their prom, especially if they have their eyes set on becoming Prom King or Queen. Unfortunately, it can be hard to decide what to wear for this special occasion. Especially for busy students, it can be difficult to keep up with the latest fashion. Fortunately, there's nothing to fear. There is a style for every taste and a look for every budget. Sometimes it just takes a little research to find your perfect look.
For the Girls: Popular prom dresses in 2013 tend towards a fearless sense of fashion. This is not the year to be laid back. Leave the pastel colored dresses and flats of yesteryears at home, in exchange for popping neon colors and huge platform heels. Prom dresses are featured in bright, bold colors, and adorned with lots of rhinestones and sheen. Colors that are especially in demand this prom season are metallic gold, blood red, and bright white. Celebrities are leading the way by favoring high leg slits and sweetheart necklines. Fashion experts across America are recommending glow-in-the-dark accessories, feathers, and plenty of glitter. Both short dresses and long ones are in fashion, but both tend to lean towards extremes. Whether you choose a long gown with a train or a short, spunky dress, be sure to remember to keep things comfortable, so you can dance the night away.
For the Guys: It's a little easier to decide what to wear to the prom when you're a guy. Classic formal-wear never failed to impress. To brighten up a tuxedo, try adding a colorful bow-tie. Teenage gentleman are also favoring jackets in colors such as red, green, and yellow. Shoes are also another way to show your individuality. Try picking out a pair of dashing dress shoes in a funky color. Or, if you want to dress down, try pairing your Converse with a slick suit.
Whatever fashion you embrace, remember to enjoy yourself. Keep in mind that it is more important to have a good time than to look absolutely perfect, so don't stress on the big night, just because your dress isn't perfect.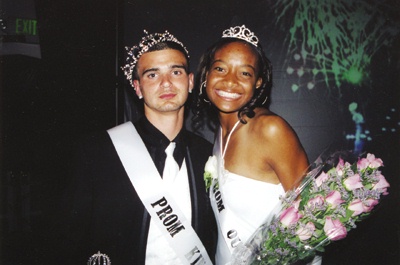 © Melinda M. Phoenix, AZ