In My Own Eyes- For My Own Sake
November 29, 2008
I give myself an image at school: silent, innocent, and wise. In a way, that's who I've always been. I'm a single teenage girl who never speaks because I simply have nothing- in my opinion-to say. Like the mocking bird, my words are beautiful, but I save them for myself. Call me greedy, but I can't step up to you and say that I have a free opinion. I don't. I share others' opinions. Sometimes I consider myself a thief. Sometimes I just think that I borrow their views.

Sometimes I wonder what I would be like if the influence of others didn't affect me so greatly. Maybe I would be a little stronger, a little more reserved. However, the past isn't something that can be rewritten. Honestly though, I don't think I would rewrite my life, even in the daughters of death gave me a pen and parchment, say me down at their great table, and gave me and power to conjure those words out of my heart. Then, they would sit at their great tapestry and re-weave it all. Everything in my own eyes finally let out. I don't think I could live with myself if I did. I admit that I am unoriginal. That's perhaps the hardest breath I've ever breathed.

My heart beats along with everyone else's. I can't stop it, change its course. It's just not possible. And yet, I struggle to be different, struggle to gain myself a name, an influence of my own. Likely enough, I am far away from that goal. My silence petrifies me, run its cold and rough fingers lightly up and down my jaw line, leaving it frozen and afraid. I am in the lone prisoner of silence. My dungeon my own mind. Silence kills. I die a little bit more than I should every day. I used to fight, but recently I've given up.

I haven't always been exactly like this. I used to be loud and ecstatic. My little body did not suffice for my loud and bubbly personality. My mind was straight, my heart was straight. But then, I changed. I've been told that I'm worthless, unloved, just one human out of the many billions. At first, I didn't believe them. I thought I could still be me, without being them. As my maturity increased though, that statement became my drug. I let it consume be, never letting it leave me site. I always held it close, closer than any heroin addict could ever get to their precious merchandise. I became what people told me to be: perfect, quiet, good and rational. My imagination dwindled and I became a cynical and depressing figure. I didn't even notice my change.

I had friends, believe it or not. Many of them could be fit into a stereotypical mask and sold as a jock, or a skater, or a dancer. If they were mean, they were cataloged in my mind in a neat a careful system, right in the appropriate place as "Witch". I labeled everybody according to who they were. Now though, I realize that nobody can be labeled.

In the past few months I have broken free of the silence. More and more so, my voice, dry and cracked, started to cry out its mournful song. Over time though, it achieved a soprano of triumphant glee. I broke the bonds of being me. I have found a place to be me, and I take it up with glittering eyes and light heart. For years I struggled with thought and possibilities, never quite grasping them, but now, now I am a free bird to take the skies one cloud after another.

Silence still motions for me to come back, and sometimes its icy fingers brush my jaw, but no more am I effected. I have a voice now, and I plan to use it. America, the world, deserves more than what we get. We all deserve a voice. Some people, I am sorry to say, never get that voice. Some people reject their voice to the alleys, and some people just don't want their voice to be mentioned. Sure, my ideas can match other people's, but my voice is stronger, and can sing clearer than ever before.

This will not be the last time you will hear from me. My voice is getting louder every day. One day, my sway, my own influence, will reach out to the galaxies we have yet to discover. My voice will be important. I am willing to let it grow stronger. Silence is weak, and only the weak can bask in its darkness. I am not weak, not anymore. I am a teenage girl among the billions. I am a teenage girl with a voice just like a mockingbird's. Listen closely, and you can hear it stretch out for miles.

For once in my life, I am good enough in my own eyes. That's all I've ever wanted.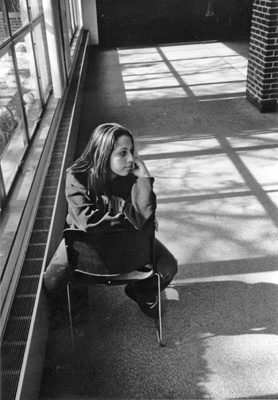 © Leighann E., Westport, MA