Prom Time
MAG
It's that time again! Prom season is here and with it comes the big problem that every teen faces: its cost. There seems to be such a high price to pay to have a great prom. The basics for girls include a dress, shoes, hair, nails, accessories, and make-up. Then the guys have to pay for a tux rental, dinner, tickets, pictures, maybe even a limo. All together, the price is hefty, and anyone planning to go knows you need a nice chunk of change to cover the cost.

But wait, do you really have to spend that much? As I see it, you don't have to pay any more than you want to. There are alternatives to get everything you want and still enjoy your prom while saving moola. Ladies, if you want your nails and hair done, beauty schools do a great job and cost a fraction of a salon. As for a dress, who says you have to buy one at an expensive boutique? I have attended three formals for which I have bought dresses and shoes, each for less than $50. Think about it - how many more times will you wear that dress and those shoes? Are they really worth hundreds of dollars?

Then we must consider the gentlemen: they have to pay for items for both parties (they are the men, so it's only proper), but there are ways for them to save some money, too. Let's start with dinner. There is no need to go to an expensive restaurant where everyone gets their own dish, has leftovers, and the bill runs wild. Only so many people can fit at one table anyway, which limits the number of friends you can go to dinner with, and that's no fun. One idea would be to invite all your friends and set up a gorgeous table with candles, china and silverware just like a restaurant. Then you could pitch in $10 to $20 each and order in food from a restaurant, have your parents pick it up, and then have them dress up as servers. This is cheaper and a fun way to have your parents following your every order - hey, this is your night (and a way for them to be part of it, too). Or, another alternative is to order a few large entrees and share them at a restaurant. That alone would save loads of money. Now, that doesn't sound so bad, does it?

Prom doesn't really have to be as expensive as you think. Good luck with your preparations, and I hope you have a great, inexpensive evening.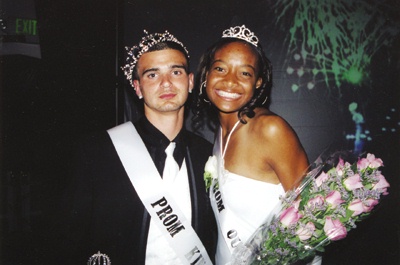 © Anonymous