Brought to You by the Letters S, T, E, and M
October 18, 2011
A little girl, no older than three, comes crashing out of a bedroom. She plops down in front of the television and readily awaits her favorite part of the morning. The commercial that had been playing comes to an end and in fades the familiar inner-city street. Right on cue, she starts singing:
"Sunny day, sweepin' the clouds away! On my way to where the air is sweet! Can you tell me how to get, how to get to Sesame Street?"
Yes, that adorable girl was me; I was one of those children who would sit in front of the television, eagerly counting along with the Count and singing an off key version of the rubber ducky song with Ernie; I was one of those kids who would shout at Mr. Noodle (in all his creepy glory) until he completed his task the right way. And, of course, I was the kid who had not one, but three different types of Tickle Me Elmo's.
I suppose somewhere along the line I learned some numbers and letters, and maybe how to identify the occasional color, but it was never the educational aspect that caused Sesame Street to become such a staple part of my childhood. For me, it was simply the colorful, quirky monsters that had eyes like pingpong balls and talked in funny voices.
I had always thought that Sesame Street was just an awesome puppet show that covered a medley of random subjects told in a much more interesting way than that of a teacher. Upon doing a little journalistic research, however, I learned that there was nothing random about what the muppets try to teach their young viewers.
As it turns out, every season the show focuses in on a particular facet of education, and for the new season the higher-ups at Sesame Street decided that they want to put more of an emphasis on STEM (science, technology, engineering, and mathematics) type of subjects. It is about time.
The whole point of having shows like Sesame Street is to give kids a jumpstart on learning, to give them knowledge prior to starting their educational career. The idea behind this is that if they start learning subjects at a young age, they will understand them better when they're older. What sense does it make to just focus educating on one particular subject when all are important? And according to the Program for International Student Assessment (PISA), I'm not the only teenager in America who isn't getting perfect scores when it comes to math and science.
In the most recent study released by PISA, in 2009 American 15-year-olds ranked 23rd for science and 30th for math. Out of the 65 countries tested, that puts America near the middle, and for how advanced we make ourselves out to be, shouldn't we be a little higher up on that list?
Now, if my own math grade is any indication of the accuracy of this placement, maybe Sesame Street should have been putting a bigger focus on STEM all along instead of airing five minutes of Elmo talking to babies and a goldfish that I'm beginning to think will never die (which, by the way, also makes me wonder exactly how many gold fish that show has gone through since introducing Dorothy), no matter how cute and adorable that may be.
As much as I dislike math, science, and most related subjects, this is probably one of the smartest moves the writers of Sesame Street have made in recent history, especially considering those are two of the core school subjects. And I know that as a young child, I would have loved to learn science by sitting there trying to guess what, exactly, the proper way was to get Zoe's pet rock, cleverly named Rocco, to float in a tin foil boat. Heck, I'd probably enjoy doing that even now.
Sesame Street isn't the first kids' show to start gearing its content towards STEM (Sid the Science Kid, anyone?), but hopefully this trend will spread towards some of the other popular children shows out there.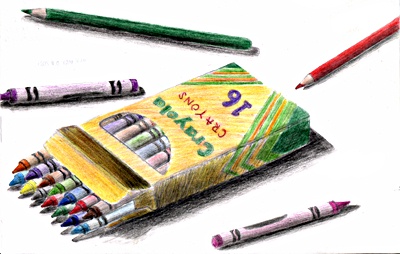 © Dana H., Wichita Falls, TX