Actor, Doug Brochu
November 25, 2011
"Talented." "Naturally funny." "Genuinely nice." "Always puts you in a good mood."

These are just a few of the ways Doug Brochu's cast-mates have chosen to describe him. Doug is the face behind many well-known sketch characters on Disney's So Random. He's played Dolphin Boy, the Magic Mirror and Captain Obvious to name a few.

I was recently given the opportunity to interview Doug for Teen Ink. A fan of him myself, I had lots of fun coming up with questions to ask, and even more fun hearing his answers!

Rachel- Tell us about yourself.

Doug Brochu- I am an actor, a Blacksmith, and an avid reader. I love playing video games and going backpacking. I have recently taken up Kung-Fu. I am a total geek.

RH- How did you first become interested in acting?

DB- My sister, Kaitlyn, actually wanted to act first. I started taking classes with her and came to love acting even though I didn't care too much for it at first.

RH- What was the audition process like for Sonny with a Chance?

DB- Imagine applying for a job. Then imagine applying for that same job three different times with someone more important attending each meeting. Now imagine applying for that job three times with important people while performing sketch and sitcom humor. That's the process in a nutshell.


RH- What was your reaction when you found out you got the role?

DB- I was shocked! Everything about that day was normal: I got up and did normal things. My mom got me my normal favorite thing to eat at lunch. Then I found out I booked SWAC, and it wasn't normal. It was abnormally the best thing of my life.

RH- What's your fondest memory from SWAC?

DB- The episodes in the middle of a season are always my fondest memories. You get past the early season jitters and get comfortable with everyone around you.

RH- Who was your favorite character?

Mackenzie Falls as a whole, [because] they were just way too corny to be taken serious.

RH- What was your favorite part about working with Demi Lovato?

DB- The spontaneity. We would break out into impromptu food fights or races around the set, and we were always trying to make each other laugh in scenes.

RH- What was your reaction when you found out she was leaving?

DB- I was sad, but I was happy for her decision.

RH- What's the biggest difference between filming SWAC and So Random?

DB- Sketches, sketches and sketches. Before So Random I would wear one wig MAYBE every three weeks. Now with the sketches three wigs in an episode is light. Also playing multiple characters every episode.

RH- Which story-line do you prefer - The show-within-a-show, or the sketch show, So Random? Why?

DB- I don't prefer one over the other, I miss all the great guest and recurring stars we had. At the same time the change has opened up doors to have all new guests.

RH- Who has been your favorite sketch character to play?

DB- Captain Obvious. I'd hope the answer is...obvious.

RH- If you could have the special guest of your choice to appear on So Random, who would it be and why?

DB- Easy. Jack Black. Boom. Why? Jack Black. Boom.

RH- On SWAC, the characters were often shown writing their own sketches; how much input do you and the other cast-members have in the sketches?

DB- We actually have pitched sketches to the writers. The Anime Bros were Damien and Shayne's idea.

RH- Describe a typical day on set.

DB- That's the thing. There is no "typical" day. Every week is filled with new sketches that we are constantly tweaking and trying out. One typical day might consist of us being pirates and another typical day we might be a barbershop quartet.

RH- What is the funniest, non-scripted thing that has happened on set?

DB- Brandon got his face pushed into his cake while he was blowing out the candles on his birthday. I haven't let him hear the end of it.

RH- What can fans expect on upcoming episodes?

DB- More great sketches, more great musical guests! I even hear someone super special is coming by for Christmas *cough* Justin Bieber *cough*

RH- What other projects are you currently working on?

DB- Working on this great project called "Personal Life". It's starring me. It's about this young man named Doug Brochu who's trying to change his life for the better and do the things he always wanted to do but never "had the time". It's shaping up to be a real excellent film. I have the best supporting cast. Joking aside I'm not too busy, things are happening but it's at the waiting phase. I've done some Voicover work for Kick Buttowski and Fish Hooks which have been WAY too much fun.

RH- What advice do you have for aspiring actors?

DB- Don't sweat the defeats and don't change your core self to suite anyone.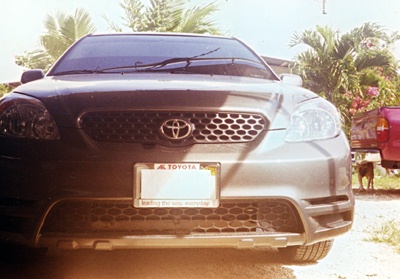 © Warlito B., Tamuning, Guam