Just another Memory
August 3, 2009
"Hi papa."
"Hi girls. You guys are so beautiful. I can't get over how much you've changed. I will love you guys forever and ever. Like always for now and ever ways. Well come here and hug me." We all ran his way to hug him.
Before we could reach his slightly crippled body he disappeared, just a memory. I fell to the warm carpet. The carpet we all would walk on to get to my grandpa's room.
"Wow you've gotten so big. Stand up Ashley, and straight. Wow you're so tall. Savannah you're tall to. Cheyanne oh Cheyanne, my little cheerleader."
"Haven't they all grown so quickly?" my Gam Gam said as she walked in our direction. I released my papa and ran over to my Gam Gam. I should have never let him go.
"Gam Gam." I yelled as I went through the small but everlasting maze of furniture. I finally reached my beautiful grandma. I hugged her tight. I let go and then turned in my grandpa's direction he was gone. Just another memory.
I turned around and began to cry as I wiped my tears on my grandma's shirt. She told me it was alright.
"I'm still here darling. It's okay, he's still watching over you."

"Do you girls want to go swing on the tire outside? We fixed it."
"Yeah let's go." My sisters and I ran to the tire swing and looked down the street my cousin Laramie and his mom, my aunt Galen were walking up the hill to get to my grandparents beautiful home. I reached for the rope of the swing and pulled my self up. My Papa finally reached the swing. He began to push me back and forth. Then the pushing stopped. I was in the air. No one was pushing me. I fell to the ground as I realized this is just another memory of the person we did and always will look up to.

R.I.P. Roy Nelson T.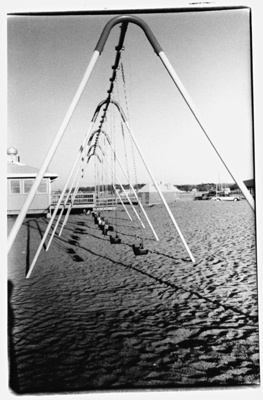 © Gina M., Marblehead, MA