From Tragedy to Virtue
March 8, 2011
On December 7, 1941 the Japanese attacked Pearl Harbor, marking one of the most tragic days in American history. The unprovoked attack may have led to a war, but it also brought people together in a time of depression. The long lasting effects of the attack are still relevant today, and include bravery, wisdom, and freedom.
The men and women showed bravery during the surprise attack. As bombs were falling, men hurried to their positions, and women rushed to the hospitals to help the wounded and dying. The fear and worry must have been horrible, but everyone saw that they needed to fight back to protect themselves and the others around them. They were brave even though the odds were against them. We still worry about our loved ones, or our friends' loved ones that are fighting on foreign lands. Just as those of Pearl Harbor did not see the Japanese coming, we cannot see all the surprises that are coming but we can react as those at Pearl Harbor. We can remember their selfless acts of courage and we can try to help others remember their bravery, so that their bravery can serve as inspiration to us and others.
What happened at Pearl Harbor was truly a tragedy. Because many people gave their lives in the attack, we are given the opportunity to gain wisdom. The losses of ships, planes, and lives provided lessons from which we are still learning. Some of the lessons learned are the need for better communications, intelligence, and vigilance. To avoid future infamy my peers and I must learn these lessons.
Learning these lessons will ensure that those men and women didn't die in vain. Of the four essential human freedoms, freedom from fear, whereby all nations lay down their armaments and cease to commit any acts of aggression against any neighbor is the freedom we must strive to accomplish, according to President Franklin D. Roosevelt. If we are smart then we will live in peace and freedom. "Smart people learn from their mistakes. Really sharp ones learn from the mistakes of others" (Brandon Mull). Hopefully we can be the really sharp ones and learn from the past. We must be thankful and we must remember those who gave their lives to keep us free. We must not take our freedoms for granted.
Let us remember what happened that Sunday morning 70 years ago and show respect for all those who lost loved ones. It is important for everyone, no matter how young or old, to honor those who fought bravely that day to keep our freedoms. We must remember the day that brought Americans together as a united nation... brave, wise, and free. Remember Pearl Harbor.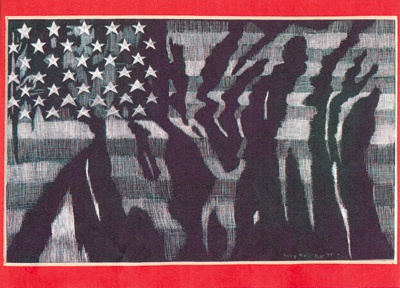 © Haley M., Ellinwood, KS