Saint Gram
April 21, 2012
If there is one person I know I love, it's my grandmother. I have never called her that, though. It was always, "gramma," "gram," "graham cracker," or sometimes "mommy" by accident.

Some of my earliest memories are of Gram showing me things.
She was holding my hand in the park in autumn and an airplane painted a streak of white across the sky. "Avión! Avión!" Gram pointed, and I smiled because I was aboard the plane in my imaginary world.
I was kneeling on the big bed with my nose pressed against the window, watching condensation gather around my nose and mouth, and I heard her voice. She was pointing to a pretty black-and-white bird on the lawn, whispering, "Look at the Magpie, Hailey! Magpie, Magpie," she repeated. I wonder if I would have forgotten had she not repeated.

I never knew "grandparents." I knew "grandpa" and I knew "grandma." "Grandpa" was intermittently present during holidays, but "grandma" was always there. Gram was the epitome of independence, maturity, love, warmth, home. Gram was the all-encompassing matriarch of my childhood: Monday through Friday, from eight to five, everyday. She was the strongest woman in the world, as far as I was concerned. She could open jars of peanut butter and move the sliding-glass door. She could get anywhere she needed to go in the suburbs without a car.

That's why I refused to believe it when they told me about the time Gram broke.

There's something you should know about Gram: She is Mexican. She grew up with six sisters and one brother in a section house belonging to the Southern Pacific Railroad in a small town called Black Butte, not far from the base of Mount Shasta. Her father worked for the railroad and she would stand on her tiptoes to watch his hands work on the counter, making his salsa using a mortar and pestle. Her and her siblings would walk "though snowstorms for miles," to get to school, where their names were Americanized and they felt uncomfortable eating their tortillas with so many sandwiches acting superior. But above all, her family never missed a day of church.

That's another thing you should know about Gram: She is one of the most devout Catholics you will ever meet. She bought my sister and I glow-in-the-dark rosaries, and we would kneel and pray every afternoon before lunch. I was probably making the sign of the cross before I could walk. Every shelf in her house contains at least one picture-book bible placed very suggestively on the lower shelf. There were as many animated hagiographies as there were Disney movies in the VHS collection she had reserved for us. I believe faith is a good thing, a strong thing, a noble thing; like Gram. But there is a certain ideology taught by Catholicism that led to the break: Divorce is not okay. Marriage is not only a covenant with your spouse, but with God. In other words, it's not something to be taken lightly. In fact, it's quite sacred. And this is one Catholic belief I know I agree with.

However, it's also a belief that I resent, because it is the reason that Gram broke. When my Grandfather left her (for reasons still ambiguous to me), she took the blow twice as hard. Not only was she loosing him, she was loosing the favor of her God. She, the abandoned, probably felt more at fault than my Grandfather, the abandoner. And this will never make sense to me because, in my eyes, Gram is an absolute saint. She is my hero. She made me who I am, and yet I am nothing like her. Nowhere near as good, at least.

But that is the true testimony of Gram's strength. After she broke, she put back the pieces.

She put them back, and still made me.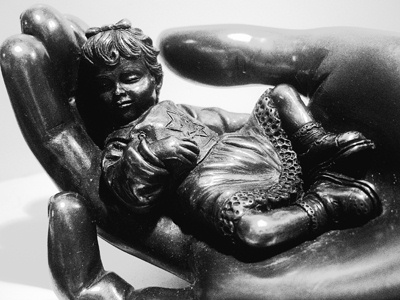 © Dat L., Worcester, MA