Steps of a Hero
July 17, 2008
My mom is my hero. She has always been there for me and all those other lost teenagers out there. She has always been an inspiration to me through her love for others and for her faith in Jesus Christ.
My mom used to be the church youth group leader, a Sunday school teacher, my Girl Scout troop leader and a teacher at an elementary school. She loves children. I don't think there has ever been a time when we've walked into Wal-Mart without her seeing one of her students! My mom is full of love and she knows exactly what she wants for her life and those around her. That's what I want in my life.
This weekend I went on a very inspirational trip and I realized just how much the view of a hero has changed. People really believe that you have to be superman or Spiderman, saving the world from evil, to be a hero. Well, I want to be a hero one day. I want to change someone's life and make a difference in their world. My problem is that the world believes I have to have some spider web coming out of my wrists or some supernatural ability to fight evil.
Maybe it's not evil we are trying to fight, it's the world. I'm fighting all the terrible things in this world; the drugs that took away that baby's parents, the abuse that's kept that girl crying herself to sleep every night or the teasing that took place in the hallway that made that boy scared to be himself. Maybe a step at a time is all I need; one smile at the boy next to me, one word of encouragement to the girl who feels she can't do anything right.
I want to be a hero to someone out there. It might not be for anything more that just being a friend when they needed me the most, but it's a hero all the same. I don't know how I'll do it, but I know God has a plan. The world tells me I'll never do it. I don't have the ability to climb walls and I don't have muscles the size of melons, so what can I do? I don't know yet, but I will be a hero one day!
My mom became my hero because she follows God every step of the way and I've watched Him make a difference in her life. My mom was the teenager who got pregnant when she was eighteen, made a few bad decisions ad was far from being right with God. She ended up getting married and having me seventeen months after my sister. After two children, she started turning back to God and I grew up going to church every Sunday. A couple of years later my parents were asked to adopt two boys that they baby-sit. It was a hard decision for them to make with my mom only being in her twenties with two girls in elementary school. I was in first grade when we adopted my brothers, Josh and Danny. My older sister was in third grade, Danny was in second and Josh was in fifth grade. I know it was hard on my parents to suddenly go from two children to four, but they did it. My mom has never given up on us or God, no matter how hard life has been. She always prayed to God and made sure we were healthy, fed and safe. There were times when money was tight, but my mom kept a smile on her face and kept pushing when none of us could. My mom is my hero and I want to be just like her. I want to be a hero too, one step at a time.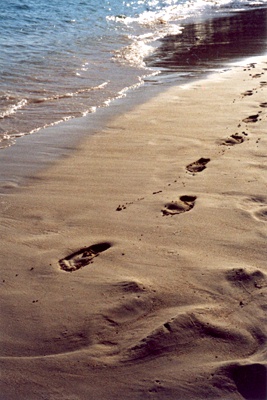 © Ashley B., Potomac, MD