Dear Teacher (My Hero)
September 10, 2015
To my English Teacher, for everything you've done,

I can remember the first day I was thrown into an enormous, frightening, and unfamiliar school when I couldn't find my way to class, let alone any friends or comfort. I was ready to curl in a ball and disappear forever by the time last hour came, right before I walked into your room. The minute I did so, I felt a big, refreshing breath of oxygen flowing through my constricted lungs just by seeing all the books, whacky posters, and your smiling face. Then, when you started talking and cracking jokes, I knew that for the rest of the year I would be looking forward to my last hour, to a place I felt I belonged.

This was just the beginning of everything, and I can't say how extremely overjoyed and lucky I was to get you to help me fall in love with English and realize it was my passion along with yours. You gave me a sanctuary, a place where I could freely be myself, in your very odd classroom with garden gnomes, decorated tennis balls, and all the tattered books jam packed into every corner. You built up my confidence, and I was not afraid to raise my hand and actively learn unlike in every other class where I shy in my seat, my anxiety a constant cloud over my head. You ripped that cloud away, and dried up all the raining doubts with a bright, shining burst of sunlight that warmed my whole body.

I would just like to thank you for being the teacher that made me feel important and talented when I felt like I had nothing to offer the world and was just taking up space. I would like to thank you for having sass battles with me in class and completely understanding my humor the way I understand yours. I would like to thank you taking time out of your busy life to read my writings and supporting me with your advice. I would like to thank you for noticing the books I read and fangirling with me about our favorite anime we've seen over and over. You made me smile, laugh until I was in tears, and actually get excited about homework assignments. You helped shape me into a far better person, and gave me the key to break free from the claustrophobic box I've kept myself locked in.

This past summer I thought about you a lot, not in the creepy way, but in the way that I couldn't wait to bug you again and see you shape the lives of your next class. I couldn't wait to impress you because all I want to do is make you proud and show you what you taught me. This was going to be a good school year, and whenever I felt anxious or afraid, I could just quickly stop in and say hello to you. That's what I thought, but I was wrong.
I'm writing in tears with my throat impossibly tight like there's an anchor around my body, pulling me down and making me drag every step. My storm has come back without the rays of sun you offered me. The school's dreary and hollow, and I swear everything has turned into a black and white movie, but no one else sees it but me. You're not here, and you're not laughing, teaching, or telling your weird stories. Your room is completely bare, and I don't recognize it anymore. This is why I'm writing to you because I'm scared to death I won't get to speak to you again. You're fighting a war against yourself now, and I pray with desperation that you fight with the strength no man has ever had. The odds are so strongly stacked against you, and I can't figure out why.
Just, please, please, my teacher, know that you are loved and needed, leaving a big, empty black hole in our school. You're more than my English teacher, you're my hero, so thank you. Thank you for being you.

Sincerely,
an indebted student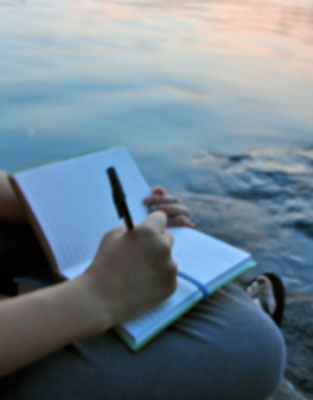 © Grace K., Port Washington, NY