Feelings in a Fence
June 14, 2010
What marks history through out time?
Is history made when people stand up against
the normal, and stand for what's right? Is history
made when a war turns into a victory for our
America? Is history when something tragic happens,
something that we can't forget, something that
becomes a devastation felt across the world?

Like September 11th 2001, when at least 2,985
people lost their lives? This list of fallen grows
more and more each day. 1, 609 people lost a husband
or a wife. When 3,051 children came home from school
to find that their mom or dad or maybe even both weren't
going to be coming home for diner that night, they weren't
going to be tucked in bed, they would never see them again.
Grandparents, Aunts, Uncles, family friends struggle to find
the right words to explain what has just happened. Children too
young to understand.

Can you remember where you were when it all happened?
Did you cry for the families that had been destroyed?
Did you fall to your knees in a weeping pile of tears?
It's okay if you did…because everyone did that day.
Did you feel alone, did you think it was all a bad dream
and open your eyes and whish it never happened?
Did you just look at your children and wonder how you
were going to tell them that someone wasn't coming home?

Did you tell them that daddy the fireman died a hero?
Did you try to stay strong as they fell into your arms?
Did you tremble while you began to drowned in the ocean
of tears that weld up in you? Did part of you die that day?
Are feelings coming up that you never wanted to feel again?
Are tears forming in your eyes as you read this?
If they are its okay… because I'm sure many have cried already.

Everything goes black, my mind takes me back to the day when I
stood in lower Manhattan, New York City. Looking at the empty
space where once the Twin Towers stood, ground zero. And then
there's this fence. A fence that is covered in cards, candles, flowers, letters,
pictures in drawn in crayon by young children. It is where lives where lost,
but they are remembered. I saw a set of photographs of families, Fathers, Mothers,
Daughters, Sons, Uncles, Aunts, Brothers, Sisters. All of them went to work that day thinking that they would be coming home for another diner with their family. They never did….never will….
Silence and tears for the victims, the fallen, the heroes come upon us when this day is remembered in our history.
For all of the people that lost their lives September 11th 2001.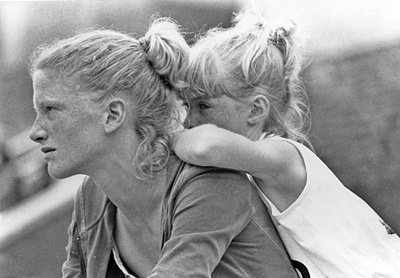 © Felicia F, Marlow, OK