Triplet Trouble: My Life
July 20, 2010
When I was a little kid I never really noticed I was different than the others. I never noticed how every adult payed attention to me, I never noticed how surprised people were when they found out I had two siblings the same age, and I never thought it odd to have a brother and a sister that stuck to me like glue. In my mind that was normal. I was a triplet, but so what? I was just another average kid, wasn't I? Wrong on both accounts.
You see, being a triplet is not at all like it appears. Many people blow it off, saying, "Oh it's just the same- except you are in the same grade as your siblings", but this is not true. If I could give one word to say what it's like being a triplet, that word would be "shared." When you're like me, every day of your life is shared. Your school is shared, friends are shared, your birthday is shared, even your parents are shared. The few times when you are completely alone are so rare that you don't know what to do with yourself. Secrets are shared (because your siblings can always pry them out of you), blowing out birthday candles is shared. In other words, my whole existence is shared.

When you're a triplet you…
1. Are treated special from the day you're born
2. Share your birthday with 2 others!
3. Don't know how to be alone.
4. Have trouble not relying on your siblings all the time.
5. Have trouble being motivated to make friends- I mean, you've always got 2 automatic ones!
6. Get mixed up with your siblings all the time (even when you're fraternal!)
7. Fight with your siblings all the time (just like everybody else).
8. Share your classes, school, sports, classes.
9. Have trouble being stereotyped by the way your siblings act.
10. Have a competitive streak (at least when it comes to your siblings).
11. Get compared all the time.
12. Get asked awkward questions about your birth!
13. Share everything!
14. Are never given special attention from your parents- you're never an 'only child'.
15. Cause your parents tons of trouble when they try to find a 3-kid stroller for you to ride in as a baby.
16. Sometimes are so similar to your siblings it scares you! (Like getting up in the morning and wearing the same clothes as my sister!)
17. Can almost read your siblings minds
18. Get tons of gifts from people you don't know, just because they remember you as a baby.
19. Are fawned over by everybody (at least as a baby).
20. Give your parents trouble when trying to find a babysitter.

You'll hear the word "wow" a lot.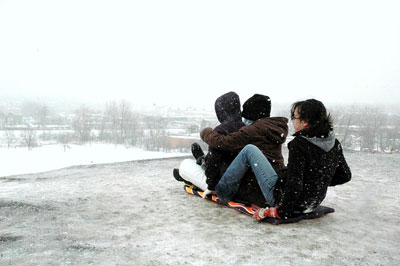 © Seita O., Palatine, IL