A Haircut
MAG
August 28, 2010
There is a sort of spiritual aspect to the experience of getting a haircut. I feel awkward sitting in the barber's chair contemplating such things. I wonder if mine are the first profound thoughts to occur three inches from the faux leather headrest. I think not – that would be presumptuous of me.

But I am an introvert. A testament to how much so is the fact that I consider it often. I am not staring at Melissa the hairdresser or the strange instruments – it's baffling to me that they are all dedicated to hair care – or the reflection-upon-reflection effect you encounter in such places.

Instead, I am now a scientist, ruthless and analytical. Face: too boxy. Nose: too round. Skin: too freckly. Eyes: too dark. This is how my face looks, framed by long, dark hair I have lightened with streaks of copper. It covers my forehead, my cheeks, my neck, my ears.

A curtain of hair, I think, hides my flaws. Dead ends frizz out in a cloud around me like barbed wire around a concrete wall. Waves, which the scalding heat of my flat iron have not quite tamed, break the straight planes, scars on smooth skin. Ugly, I think. I see no beauty inside the frame of that mirror.

I close my eyes as Melissa wets my hair. Starting at the beginning seems appropriate for all change. Go back to the beginning and start anew. All begins with water. Symbolic, I think. Somehow fitting.

I don't watch as she cuts, slowly snipping away my defenses one by one, letting them fall to the peeling linoleum floor like leaves from a tree. They gather in a dark ring around my chair.

It is quiet in the shop. I can hear the soft snip … snip … snip of Melissa's scissors as they work away at the years. She slowly cuts, like a gardener at a runaway bush, attempting not only to make it beautiful again, but to make it healthy – open it up to the sun.

I breathe slowly and deeply, my eyes closed, repeating my mantra. Change is good, change is good, change is good.

And much too soon, she speaks, breaking through my thoughts.

"Tell me what you think."

Much too soon. I'm not ready.

But I feel her spin my chair around to face the mirror. Time to let go.

I slowly open my eyes.

I look into the mirror at the girl sitting there slowly and cautiously examining me, and I think, Oh … there I am.

Dark, curly locks brush my ears and jawbones. Loose and light and beautiful.

I can see myself there now. My eyes seem brighter and greener against the darkness of my hair without highlights. My skin looks pale and delicate against the rich, dark tones. My cheekbones stand out more, and my neck appears long and thin. I look like someone who leaves herself with everyone she meets, everywhere she goes – young and wild and free.

I see now.

I've found myself again.

"I love it," I tell her, as I reach up to touch my still-damp locks and smile.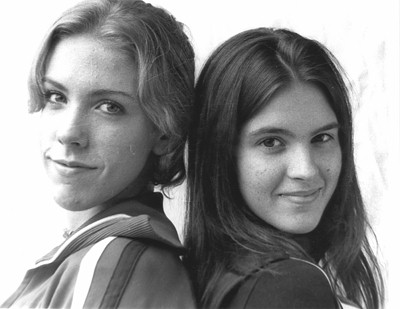 © Lara C., Norwalk, CT