Holding a Moment
October 19, 2010
So many times that day, the worrisome question 'What if?' echoed through my head. So many people had been losing their jobs; confidence was hard to grasp. I tried to push these thoughts to the back of my mind, but sometimes it was hard not to slip into the murky fog of these questions that I did not dare answer. Sometimes what I showed myself shook me into an overwhelming state that I struggled to swim out of. This troublesome feeling was somewhat difficult to avoid after hearing about even more job losses of people I knew. Though my parents' employment was rather secure, something, just something lurked inside of me, engulfing me in a cold, cold darkness wrapped around every thought I had.

That evening I wandered outside, why I cannot say, only because I do not know. Whatever the reason, I went outside into the brisk evening and sat down on the grass. If the grass had been soft and green I wouldn't have known, I seemed to know or see nothing but the devastating cloud of worry that loomed over me. I had just glanced up, and somehow I could see; I could see my dog running, just running. Every leap, every jump, every step she took, she took it like it was worth it. She took it like it was worth being there right then, and that she was going to make the most of it. So, she ran, without worry, without trouble, just with the thought that this moment was something. Her delicate paws barely touching the ground. Her delicate paws barely touching whatever trouble might lie beneath her.

Maybe she did not realize it, but I did. I realized that she was right. She was right that this moment was worth it. She was right to live every moment, every minute, and every second like it was worth living. Also maybe, just maybe that was what I should do, so I ran. I ran past it all, past my fear and worries, past the dark cloud that once loomed over me, knowing that what would come would come and that I now held this moment and that I should do something with it. An evening breeze blew through my long hair, inviting me to come see what this moment had to offer. I followed the breeze with joy being the wind that I flew through. Silhouettes of trees against a purple evening sky lined the horizon. A sweet welcoming melody of songbirds danced in the air. I felt it; I felt the soft grass just skimming my feet as I glided across it. I felt it all; I felt the joy that lived around me, now inside of me. I felt the joy that dwelled in the towering, firm trees. I felt the joy that dwelled in the tremendous clouds floating over my head. I felt the joy in the singing, dancing birds, in the graceful evening breeze that wove it all together. Most of all I felt the joy in me, in my soul.

My heart rate slowed as I came to a rest in front of her. Looking into her eyes that seemed to hold only happiness, I thanked her. She probably did not know what she did, nor did she understand what I had done. But I did, I knew that she had helped me let go and live. Live the wonderful life that I was given; take to notice all the amazing things the world had. Off she went again, running, just running, not realizing the immense change she had just made in my life.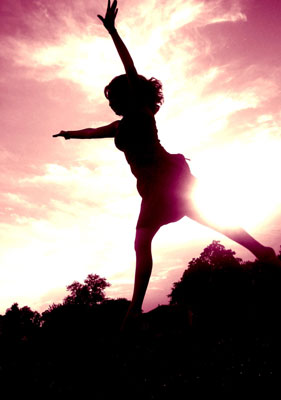 © Martha V., Morton Grove, IL