Running from Pain
October 20, 2010
My legs are so tense; my arms so stiff, my feet so sore—every limb in my body is overwhelmed with numbness. How will I ever finish? A grassy open field encompasses my every step; clumps of dead grass linger on either side of me, I am running through the deadening fall air in a cross-country race that I might leave incomplete. The sun's evil rays rain down on the field, and the only shade is the trees that are readying for their expiration date. Though one by one the leaves fall to the earth, disintegrating into tiny specks of the soil. What is taken from the Earth must be given back in the end, and in the end I need to decide whether I can give my best.

I am so close to being done, but so far away; I'll be lucky if my legs don't start to bleed. A couple miles might seem so short based on what the bystanders see beyond the lined barriers of the field, but every second lurches on, as if it were an hour passing instead of minutes. Is this what the crowd will think of my race? They'll think it's just a couple of minutes passing while watching a cross-country race, but do they realize that every heart beat—every breathe—every step feels like an eternity?

Only a blur remains ahead of me, but what I should worry about is what runners are behind me. I am almost at a u-turn, around a brownish clump of grass that reflects the hot gleaming sun. Then there is the last hill, small, but deadly. Only a bit farther the finish line is welcoming me with its mocking smile. Maybe a quarter mile or less left, but I am still considering giving up. The thought of giving up gives me a picture of a lousy kid who can't run to save his life. That is not me. Not ever will that be me.

I'm at the turn, when I see a hazy figure of a man; I'm not even going to try getting some details out of him, I might pass out or something. If that unidentified man cheers for me, I think fainting is in my future. I tend to slow down when people cheer for me, and only a handful of people know that.

"Good job, almost there," the man said in a dull voice, then quickly drawing his eyes away from me, looking towards the runners tunneling in from behind. Somebody must be on my tail.

I told myself he would cheer, and he did in a dull voice implying that he could care less about this race. Maybe, he has a kid in this he's looking for because really, I can't think of any other reason why he'd be here. I can't allow myself to slow down because of a small stump in the road. Though to slow down seems like the only way I am going to finish. My pace hasn't changed throughout the race, but the pain has doubled. Pain always finds a way to slip into my thoughts. I have never found a way to escape it; I have only been able to realize that pain is inevitable.

The man that cheered said no more than that, and I am appreciative that he didn't. I am thankful because he was one of those people who only give a dreary comment then stop. Now that I am completely finished with the turn, the short-but-deadly incline arrives. It's one challenge after another. My legs hurt with such unbelievable pain; I look to my legs, so frail and flimsy. Sometimes, I just want to run away from pain, but when will that ever be the solution? I have to fight it, but it is so difficult. I will not give up, not when I am this close, but I might have only that single choice, to give up. I can't though, I must throw that choice away, maybe only a minute more, only so much more…

I can do this, I can do this, I guess I need to repeat that over and over in my head to finally shove it in my memories. I realize where I am, the hill is far back and the only boundary that is left to prevent me from seeing the finish is a slight turn. I can't give up now, not when I'm this far, not when I am so close to the white line marking the finish. I will do whatever it takes, push it too the limits, and finish. Now I am close enough, with the finish ahead of me, this marks a time, a time to sprint.

I did it. I finished that race strong; I look back to the finish, only seconds ago I was breathing so hard my heart could have stopped beating—and it seems like so long ago that I crossed the winner's line. Those last few minutes of the race felt like silence. Maybe I don't like the crowd's cheers, or the horrible pain, but what I can do is finish, to not give up. I silenced the pain.

That race was my best race of the season, and the last race of the season. So now, this race will forever be engraved into my memories. I am my own crowd. My encouragement to myself is stronger than any cheer that a crowd can produce. Pain isn't something I can control, but I can control my decisions, and every decision leads to an answer. My answer, or finish, ended with my personal best of the season. Some people would rather have the loud crowds and plenty of attention, but for once, just one time… If I could run in silence, it would be the best run of my life.

I carefully sit on the nearest bench before I drop, and first thing I do is look back at that treacherous course. The tall strands of grass no longer reflect the once gleaming hot sun. The green grass has turned to brown in the shade, but the runners remain a smudge in the horizon. Really, though, nothing has changed since I seen that picture of life while running through that field. Now, I am back to where I started—my legs are so loose; my arms so delicate, my feet so relieved, now I know that I can always get back on my feet, that I can run through the pain, not from it.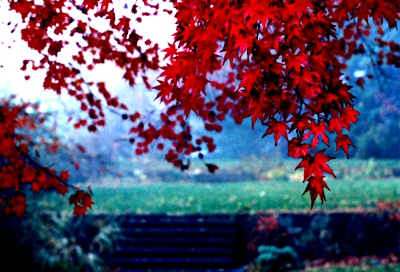 © Susan R., Iselin, NJ