It's Never Easy
January 1, 2011
There are four wrapped boxes in the back of my closet- two are addressed to me, two are addressed to him. They've been there for almost a year now.

I accidently found them when I was looking for a sweatshirt. I had forgotten all about them until now.

Taking them out, I feel the smooth wrapping paper beneath my fingertips. The paper is adorned with reindeer and Santa, happy Christmas images that don't seem so happy right now. I place his boxes aside- I already know what's in them. A polo shirt for Sunday church in one, and a chunk of field from the old Yankees stadium in the other. It was terribly hard to find, but I know how much he loved the Yankees. I'd seen his wall dedicated to memorabilia. I had even taken some of it.

Looking at the gifts, it's hard to believe it's almost been a year since I lost my grandfather. It's also hard to believe he was admitted to the hospital right before our family could drive the hour distance to exchange gifts.

I run my hands over his presents to me. It hurts incredibly bad to think of him picking them out and wrapping them for me. Tears prick my eyelids.

My memory floats back to the funeral last year, his made-up face looking perfect in his casket, dressed in a black suit and a red and blue tie. Next to him lay his Yankees baseball hat, and on the other side his State Fair button. He had been so proud of his job there.

I had been crying too hard to stand in the line with the rest of the family, so I sat in the very back pew, watching people I didn't know come up and hug my cousins and shake the hand of the woman he had married after my grandmother died. I remembered wanting to take a bottle of Advil and be done with all of this.

I remembered the funeral, hearing my cousin read the words of my poem I had written for him, the speeches my uncles made, the tears coming down their faces. I remembered the look on my little brother's face as he carried the casket out of the church, holding his own with my father, my uncles and my other male cousin, though he was so much younger than all of them.

I remember the burial, my fingers numbing in the cold. Bells rang out when he was placed in the ground, and we were each given a flower to lay on his casket.

The year passed without him- no phone call on my birthday, no monthly visits to his house. Now I only had the two boxes that sat in front of me.

I take a breath. He would have wanted me to open them. I take the first one and peel back the paper. Pajama pants, decked out with the logo of my favorite NBA team. The one he was always teasing me about. Tears started to puddle in my eyes.

I took the next one. Slippers. I looked at my ratty old ones on the floor next to me. I really needed new slippers.

It reminded me of him sitting on his couch, always dressed in tan pants, a sweatshirt with my dad's company logo and his blue slippers. The memory burned.

I noticed one more box. I took it in my palm, carefully undoing the paper.

A cross necklace.
I held it, silently praying to him, thanking him, as tears poured down my cheeks. I hated God for a second, hated how He could just take him away without much warning. How He could allow smoking to cause such damage to my grandfather's lungs that it killed him.

I undid the clasp and put the necklace on, clutching it tightly. I got up, and walked over to my record player. Being a vinyl junkie, I had taken his country albums and stacked them up next to my turn tables. There had to be over fifty, most of them Johnny Cash. I put one on.

I went to my chair and grabbed his Yankees pillow, and sat on my bed, listening to Johnny's voice, and paying tribute to my grandfather.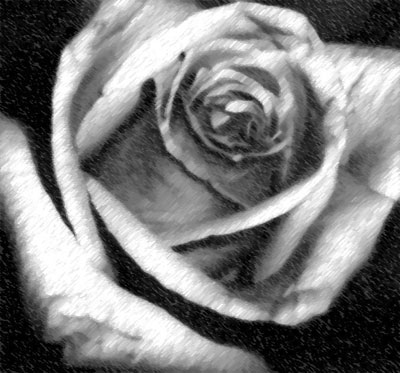 © Wajida S., Shrewsbury, MA