Gone.
February 8, 2011
His soft and quiet footsteps walked past my door. He tries not to wake me, when I was already awake. I would call his name to come and get me out of bed. I would roll out into his soft, loving, strong arms. I smelled coffee as we walked downstairs and would hear the *Drip Drip Drip* of coffee into the pot. The birds would chirp as we ate cheerios on the couch while watching the news! Mornings were the best part of the day; alone with him, wrapped in his loving arms.

I remember his sweet smell and the way he looked at me. The way he drove with his knee and the way he held me tight. With all the challenges he was facing, he still took care of my sisters and me. I could see him anytime I wanted and the privilege was taken away from me.

He has left everyone he loves and he has left me. Left me to sit in the dark all by myself only to think of why it had to be him. Why it couldn't be someone else. Why it had to be him. There is nowhere to run and nowhere to hide. He is gone forever.

There will be no more hearing his footsteps and rolling out into his arms. No one to go to when no one else will listen. No more being comforted. He would not see me when I could drive or when I get married and have kids. He will be here in my heart and in spirit but he is dead. He is gone.

When I think of him I wish I was four, calling his name to get me out of bed.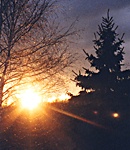 © Christy S., Germantown, NY