In Retrospect
May 18, 2011
I saw you from a distance. You were climbing up, up— to scamper, squirrel-like, delicately along the branches so thin and so high; to reach up from the top and touch the sky with your waving arms; to jump up—you knew you wouldn't fall; the wind would carry you higher in the air.
For an eternity, I watched you scramble up the thick, scratchy trunk, finally finding solace in a secure fork so high above me. In your security you didn't realize you were stuck, shoe lodged in the throat of the gnarled, prehistoric limbs.
You try to laugh off the seriousness of it all. Is it really funny?
*
*
*
You ceased your attempts at disengaging yourself from this tree and looked around. Beyond the dark green canopy of the fresh summer leaves ready to be eaten by the inchworms lurking in the knotholes, we could see: a man down the street laboriously moving up and down an imaginary railroad crossing through his backyard; the occasional car rushing by on the sun-drenched asphalt of the highway; the stray cats playing with a dandelion.
We could see everything, nothing was hidden from here. Through the dense foliage, we could see.
*
*
*
Maybe their intentions were good; they always seemed to care. The ones you were fugitive from yanked you back, but the air didn't hold you, and neither did I: we stood back, apathetic bystanders. Gravity was the villain pulling you under the surface through the sun.
A millisecond of fear and protest, then with a thud the earth slapped your back in its stolid, mossy gravity. Now, you lie back and stare into the sky: disillusioned, but still in disbelief, at your newfound freedom.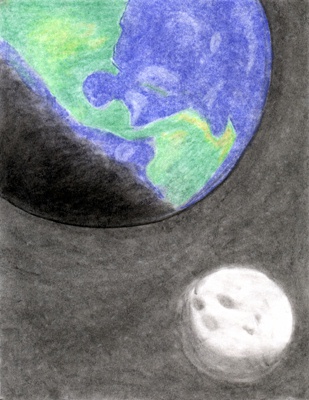 © Bianca C., Phoenix, AZ