Alula Borealis
May 20, 2011
At first sight, when spotted from behind the tank's fake coral, all you see are tentacles. She has five of them. They appear as slimy, segmented snakes. She would never have you guessing her true identity.

But if you see her early in the morning, when the tank is still dark, you won't believe what you see. You will think she is nothing more than a hoax; something as outrageous as she can't possibly be real. She looks as though those five snakes are protruding from within a maroon Starburst we call her body. She looks robotic.

But what is truly outrageous is watching her hide. It takes her awhile to wake up once the light begins to shine. But slowly she will begin to move her skinny tentacles up the tank's sides. She attempts to climb over the snail, but her attempts prove futile. She instead slithers her way slowly, clumsily along the side of the tank. She looks as if she is performing cartwheels as her weight is shifted from one tentacle to the other. At one point, as her last tentacle leaves the snail's shell, she stumbles and falls.

She has decided to abandon her attempts at walking upright; she now makes her way, slithering across the sandy bottom. As one tentacle then the other are lifted and placed down in order to make her move, she suddenly appears extremely counterfeit and robotic; unbelievable as a real creature. As she makes her way closer to her hiding place behind the plastic coral, her long, snake-like tentacles make her look like a frog creeping across the ocean floor. Her tentacles wrap around the coral, but her body is hidden; so once again she fools the world into thinking she is nothing more than a group of snakes huddled behind the coral. But in the morning, when the light from the sun imposter shines down, she will then fool the world again into believing she is a clever fraud.

She has the whole world fooled, doesn't she?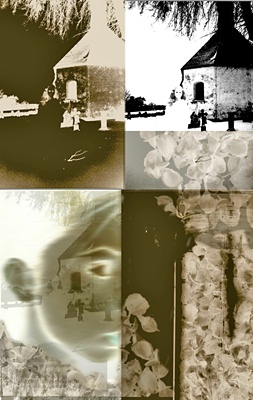 © Shann L., Tai Po, Hong Kong