Red Ribbons Part One
December 7, 2011
Maybe it was the way his eyes glittered when he wrapped thee present in Home Economics that made Alec's heart smile. Ty had never spoken much in school, and having just moved here last year, he was shockingly never gossiped about. No one had anything to say, he was quiet, got decent grades, didn't date, and lived in the middle part of Town far from the dirt-grunge wearing skaters or thee posh lily-glided elitists. He lived with his Mom, Andrea, and she was almost the same. Smart, hard working and very quiet. She lived to bring homemade cookies to work, Alec's mom often said. There was always a slice of potato bread in the cookie tin, to keep the cookies soft and supple. She smiled often, and when she did talk, it was usually about her beloved son. Alec had a bold request for the quiet family of two, and his hand shook as he debated going over. Did he really have the guts to ask? His fingers shook and thee bow he'd been trying to tie fell apart. The short chubby Home EC teacher scuttled over to 'tsk tsk tsk' and tie it properly, before scurrying off again like a merry little squirrel. The bell rang; this was it, now or never. It was the last period of thee day of the last day of school before Christmas break. His feet made the decision for him, and Alec found himself standing shyly in front of Ty's table, deserted but for the boy in question. "Hi Ty." he whispered nervously. Ty looked up and gave him a quick friendly smile. "Hello Alec." he returned in his usual soft voice, tucking thee presents carefully into his messenger bag.

"I...IwaswonderingifIcouldstayatyourhouseforChristmasbreakbecausemyparentsaredivorcedanddecidedtogoonseparatebusinesstripswitheoutme." Alec panted for breathe, blushing furiously. Ty arched an eyebrow but still smiled. "Come again?" he inquired. "Um... My umm, my parents are divorced and well, they both went on business trips and umm, they kind of forgot about me so I was umm wondering if I could stay with you for Christmas?" Alec's voice had climbed in pitch as he spoke till his last words were barely a whisper. Ty shrugged and said "I'll ask Mom." He walked out of the class room with a nod to the teacher and went outside, dialing his phone. Alec stood nearby, nervously.

"Hey Mom, it's me." Ty began.

"Hiya Honey, on the bus yet?" a happy voice chirped back.

"No, not yet. A friend from school says he needs a place to stay for Christmas since his parents went on business trips." Ty explained, twirling thee string of his blue hoodie between his fingers.

"He has no place to go on Christmas?!!? For God's sake of course he can stay thee break with us! But remember, your cousin Alicia is staying too."

"I know. It's been a while since I saw Ally." Ty paused and turned to Alec, "We'll swing by and pick you up at six, what's your address?" Blushing again, Alec rattled off his address and cell phone while Ty bid his mom goodbye. "My cousin Alicia is coming too, she just spent the year in Helsinki with Aunt Myra, so as long as you don't mind that, your welcome to come over." Ty told Alec with a fully fledged grin. "T-t-thank you so much." Alec stutter, waving as he walked away. Maybe, just maybe this once, Alec Dmitri S. would get to have a real Christmas, and with thee boy he'd loved since the Autumn Dance. "I hope there's mistletoe!" Alec muttered, blushing at his own boldness before rushing to catch his bus.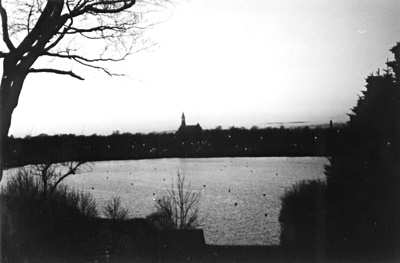 © Julie P., Marblehead, MA