My First Bike
June 13, 2012
There were Disney princesses all over the pink frame. Ariel, Cinderella, Sleeping Beauty, Pocahontas, and even Belle. Pink and purple streamers burst out of the handles and fluttered in the wind. The handles were once a pristine white but had worn away to a dull gray over the years, but Ariel's smiling face continued to greet me no matter what time of day or how long it had been since I'd last seen her.
The pedals were a pastel pink, contrasting against the bright hot pink of the rest of the bike. I used to think that they couldn't make the pedals the same pink because they couldn't find the right color plastic. The training wheels used to squeak and wobble. My dad put them on and he's not exactly the best with tools. They'd roll across the pavement of our driveway and I wobbled from side to side towards my mom.
Then the summer passed and I started second grade and I spent less and less time on my bike and more time hunched over my handwriting worksheets, making sure they were perfect. Then the leaves fell off the trees and grew back again and I'd gained new interests. Disney princesses weren't cool anymore. I wouldn't be caught dead riding that thing around. I wonder where it is now.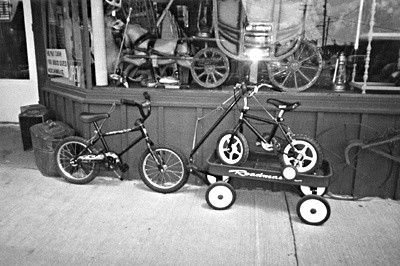 © Eva A., Eagle River, WI