The New Girl
March 19, 2015
"Here we go again," I think, sighing as I walk into the large doors.
This is not the first time I've been "the new girl." In fact, I've been "the new girl" at least 4 different times. Granted, I only remember 3 of them clearly, but still. I was walking into the sea of random, unfamiliar faces with no prior knowledge of the school. And It wasn't the first time.
As I walk through the hallway, getting a tour by one of my new classmates, my mind thinks back to the last time we moved. Back then, I was only a lowly 8th grade homeschooled girl. At the time we moved, I only had a few friends, one of whom was my best friend in the whole world. We had known each other since we were 5 years old, and now I was going to be moving 4 hours away from her at the age of 12. I was really sad, but also tried to look on the bright side.
Before I go any further, I have to get some facts straight. My dad is a pastor, so we move around a lot. We moved more when I was little, but now I have lived in 6 different places. I remember 4 of them clearly in my mind. But the important thing to understand is this: we never knew when we would be moving. We sometimes only lived in a place for a few months, and sometimes a few years. Our longest record for living anywhere is 8 years (which is where I was when I was 12). The point is, I moved and never knew when it would happen again. So, we were all home schooled to make it simplified. Then, we moved again, and everything changed.
I was really sad about this move, since I had gotten used to living where we were. I was still really innocent at the time, meaning that I knew that there were bad people in the world, but I was determined to never be friends with anyone who swore (yeah, I know. I was truly that innocent, though). When we moved this time, my parents asked if I wanted to go to public school. I was perplexed. How could they think such thoughts? But I did consider it. I compared the pros and cons. For example, when we moved it was to  a different state. This state had different laws about homeschooling. The law there stated that if I wanted to be in any extracurriculars, I had to be enrolled at that school. This was a huge factor. What was I to do? I really wanted to play volleyball and be in their acting group. After great consideration (it took me all summer to decide) I finally made the decision that I was going to go to public school.
My heart was beating faster than I ever imagined it could. I walked into the doors and then through another set into the gym. Everyone else was already there. They all turned to me with a collective stare. Nobody knew who I was. I walked up to the person whom I assumed to be the volleyball coach, handed her my physical, and explained who I was. I told her that I had recently moved to town, and had only enrolled a few days ago. Everyone was nice to me then. Or at least, it seemed that way to me at the time.
Freshman year is supposed to be awkward, but for me, this was especially true. Having been homeschooled, I didn't really understand how the public system worked. I had to figure it out on my own. The easy part was the homework. Where all of my classmates struggled, I easily got A's, because I had already learned all of the information in previous years. My problem wasn't that I couldn't get good grades, it was that I just couldn't make friends.
A few weeks into the school year, I was annoyed. At that point in time, I was still pretty shy and didn't know how to engage in conversation with someone I didn't know. So, all anyone could really get out of me was that I had been homeschooled until that year. People started to notice me, but not very many. Only a few of my classmates even realized that I existed. The biggest problem of all was the school I had chosen. When I decided to go to public school, I had two options: one was a big school with hundreds of classmates, and the other was a community school with the average class size of 20 students. I chose the small school, because I reasoned that I would rather have a few close friends than lots of acquaintances. There was just one problem: the community school was filled with kids who had lived in the town for their whole lives. In fact, many of them had lived there for generations. And then there was me. I knew absolutely no one. What luck. (sarcasm can't translate into the written word, so I'm just going to tell you--that was definitely sarcastic)
Of course, by the time I had lived there for 3 years I had learned to come out of my shell, become very social, and made some great friends. Things were once again great in my life. One of my relatives asked if I thought I was going to graduate in that town, and I was pretty sure the answer was yes. I even told my friends that. Of course, that was a mistake. A few days after I made this proclamation, my dad confided to me that he was looking at another job opportunity. Just my luck. (again--totally sarcastic)
In the middle of my junior year, my dad was chosen for the position, and he announced to the whole family that we were moving again. This time, it was literally in the middle of the school year. Sometime in October, I think. So, I had a problem. If we moved right then, I would not receive credit for the semester of classes I was currently taking. I convinced my dad to let me wait until the end of the quarter. At that point, I announced the news to my friends and I went to the new town with a heavy heart. I enrolled in classes at my new school with no problem. But then, there was a problem. Their quarter had ended two weeks ago, which meant that I would be entering the class on what was just an ordinary day for most students. This was going to be even harder than I originally thought.
Now we have finally reached the part of the story that I began with. Let's get to it…
After I had walked through the doors, the next challenge was finding all my classes. I like to say that I'm rather… directionally challenged. Basically, it takes me a really long time to remember how to get to places. Anyway, I had already toured the school the day before, but there were so many odd twists and turns. I was confused. This school had to be at least twice as big as my old school in size. Needless to say, I was late for quite a few classes that day. Several people figured out that I was new, and they were glad to give me directions, but it was still awkward. Plus, every teacher made sure that my presence was known. One even had all the students stand up and walk around the room, announcing their names. Talk about embarrassing. After a few days, I had figured out where my classes were, and I was no longer late. I got into the "swing" of things, and made a few new friends. It was an exhausting first few weeks, but I got through it.
I have now lived here for almost a year and a half. I have found a nice group of friends and have a pretty big circle of acquaintances as well. Things are going well, and I'm glad that we moved. I still miss my old friends, but we keep in touch, so it's not like they disappeared from my life or anything. In fact, I still have contact with my friends from almost everywhere we have lived. It's kind of fun.
My dad says that his job will last a minimum of 6 years here (he has it in his contract) but I'm never too sure. We always go where God calls us, whenever that may be. So, at this point, I am only a few months away from graduation. I would hope that we don't move between now and then, but with my life, I never know. All I know is, it won't be a problem if I have to once again be…
The new girl.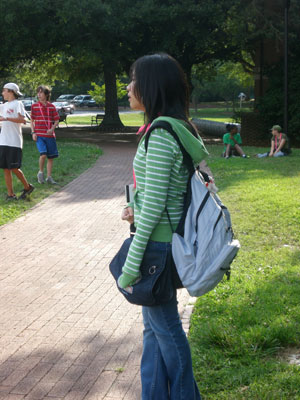 © Lucienne B., Parkland, FL