The Monster
MAG
September 22, 2015
July 2015
I am stuck at a red light, my friend driving. The sun is fading, and his eyes are weary; his fingers rub his temples, and I can still see the outline of his spine, knobbed and curved, through his shirt. He says to me, "Maybe, if you'd told me sooner, I could believe you."
I am stuck sitting at a red light, but I'm stuck in a lot of other ways too.
June 2015
Sunglasses shield my eyes from the fluorescent gym lights. The Monster is graduating today. His grin widens when they call his name, his lips stretching to reveal his teeth. He walks like he hasn't ruined my life, and I wait with bated breath for him to throw his cap in the air. I shed my shackles when his tassel turns; for once, I am walking on air.
I turn 16 in France, but nowhere scenic. I exist in the subway, surrounded by pickpockets and perverts, closing my eyes when I turn corners because The Monster appears when I am lonely. He whispers to me about coming home, and I don't know how to seem sane when I whisper back you took away my home.
May 2015
The Monster kisses my best friend. I've known it was coming, prepared myself for impact, but the shock still shakes me. I am dizzy with fear when he kisses her throat, and I think how easy it would be for him to snap her neck. I know I will be seeing him for much longer than I anticipated. I try and fight the dread, the existential instinct to accept my own demise, but I've already given in. I am so tired of fighting.
April 2015
I imagine the anonymous car parked in front of my house is The Monster's. My fragile mind drifts from panic to nostalgia. I stay locked away on the third floor, wrapped in a sweatshirt that does not remind me of him. My watchful eyes do not leave my street until long after the car finally speeds off. I stand until my feet ache and watch until each blink causes an explosion of bright, blinding pain behind my eyelids.
March 2015
I dream that we are together again. He is loving, and I am happy.
February 2015
Manic depression is the official diagnosis. I have not felt so comfortable with something since The Monster was The Boyfriend. This diagnosis gives me a reason to be so pathetically broken. The nights start at 4 o'clock now, the sky blackening as I make my way home. I take baths in the dark and hang over the side of my bed, the glow from the streetlights illuminating the curve of my cheek. I wonder if other people still see the bruises too. I wonder if they would care.
January 2015
New Year's Resolutions:
• Remember, when someone says, "I'm doing this because I love you," what follows is often unpleasant.
• Look into mirrors without seeing ghosts.
• Nostalgia for The Boyfriend is useless. He never existed.
• Monsters do not have to live under your bed. He lived on top of yours, with beautiful blue eyes and a stunning smile.
December 2014
I still haven't stopped scrubbing my skin off in the shower, curling up in the furthest corner, scrambling, sliding, shrinking away from the taste of summer and mania. My fingernails turn blue like there's ice water in my veins, and my lips are tinged with cobalt and dead skin that peels off like seaweed. I am turning into a mermaid. I stay under the harsh spray until the water turns cold and I feel more dead than alive. I pretend I never have to leave, never have to go back to cold morning air and glares from The Monster and my old friends who scoff at me. I drown and drown, my lungs full of steam.
November 2014
My name is the only thing I'm sure of, with split skin and smeared makeup, stumbling home at some ungodly hour, scrubbing the smell of smoke and vomit from my hair. Bonfires cloak The Monster in hazy stars and blurred vision, help him hide in pockets of ash and smoke that trail upward endlessly. I blacken my marshmallows and imagine him burning. If only ending a life was so easy, I would've killed him, or myself, a long time ago.
October 2014
I can't really remember a time before The Monster, and I know that I'm fading into nothingness. I try to remember happy times, but they intermingle with The Boyfriend before he turned evil, and I feel like I'm letting everyone down.
September 2014
My parents ask why they don't see my friends anymore. Is there a good way to say I was sexually assaulted and they don't believe me? My parents ask why I can't get out of bed. Is there an easy way to say I was sexually assaulted and no one believes me? My parents ask if I need to talk to someone. How do I begin to say I was raped and no one believes me?
August 2014
My boyfriend always knows what he wants, something I admired about him until it was turned on me. This is okay, I say, when my neck snaps against the mattress. This is okay, I say, when he forces me. This is not okay, I say, but I'm not sure he was ever listening.
August 5th, 2014, post-trauma
I absentmindedly remind myself to throw away these sheets, to burn them, to dissolve these sheets in hydrochloric acid and then destroy myself too. My head swims, filled with black stars, but I reach for the phone; my hand falters and I fall unconscious. My last thought echoes in my head: at least I still have my friends.
After
I didn't know how to talk about what had happened, so I didn't. I stopped sleeping and eating in favor of shaking and sobbing. My friends grew angry with my absence, my co-dependence, and my bitterness. They built a bomb shelter far beyond August 5th to hide in, to wait out my aftershocks. When they arrived in my war zone, they threw demonizing flower after flower at my feet: sociopath, promiscuous, liar. I collected each namesake before I could see who crafted it; my friends vanished, long gone from the earthquakes and aftershocks of sexual assault.
I still don't know how to talk about it, and I still don't know where they've gone.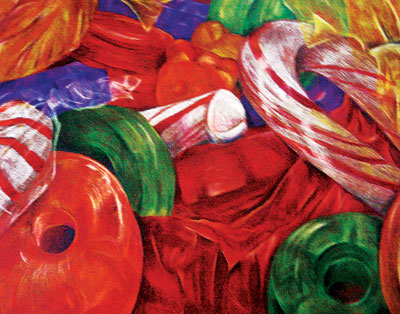 © Amy Z., Edmond, OK