Miscellaneous Memories of Grandpa
March 8, 2009
Grandpa Al was always sort of frightening. He was tall, and his voice was louder than most grownups. He had a workshop down in the basement where we (my siblings and I) were not allowed to go without and adult. When I got to, I always held tightly to daddy's hand. The workbench towered above my head. There was sawdust on the floor, and a smell of warm wood. Mounted to the shelf next to the door, was a pencil sharpener. It had a handle that you turned once you stuck the pencil inside. There was a little GI Joe sitting next to it. Grandpa explained that the GI Joe would fly in his model airplane once it was finished. It never did get finished. Every night before we went to bed we said goodnight to grandma and grandpa. Every time grandpa hugged someone, he would say 'hug.' His voice was strong and could be very loud but there was always a silvery whisper sound to it. There was a comfortable elegant chair in the living room, covered with a soft velvety fabric. This was 'Grandpa's chair.' One day I was outside before going to church. My hair was carefully braided. My shoes were shiny and black. I hugged my winter coat around me trying to make up for the cold air that rushed up my dress and around my legs. I was walking in careful designs on the layer of freshly fallen snow. 'Hey, what are you doing walking in my nice clean snow?' he was joking but I couldn't tell. I ran in to mommy and grandma, tears streaming down my face. 'Grandpa said I couldn't walk in the snow.' I wailed. Grandma said, 'Oh'you know, he's probably just joking, he doesn't realize that you think he's serious, he doesn't really mean it.' We went out and talked with grandpa, I still was always kind of afraid of him though. One day, after we had moved far away, Grandma called and wanted to talk to each of us children, she told me 'Grandpa is very sick, the doctors think maybe they can help him, but he is still very sick, will you all pray for him?' She also said something about a new chair, he couldn't move very well between his bed and the living room, so they got him a big, expensive recliner, that could lean all the way back so he could sleep there in the living room. A few months later we went to Denver because Grandpa was very, very sick. I didn't understand how I would miss him later; I never got to know him very well at all. There was so much I could have learned from him. When my grandma read this she cried. She also told me that my siblings and I were very dear to Grandpa. And that when we left the hospital after visiting Grandpa for the first time, he was crying and he said that he was so glad he had gotten to see us again.

At his funeral my sister and I sang a song, called 'I'll meet you by the river.'

Far beyond the partings and the tomb
Were the charming roses every bloom
I'll meet you by the river
Some sweet day
After all the sorrow and the strife
After all the trouble of this life
I'll meet you by the river
Some sweet day
When we gather far beyond the sea
What a happy meeting that will be
I'll meet you by the river
Some sweet day
After we have flow these prison bars
To a city far beyond the stars
I'll meet you by the river
Some sweet day


His ashes were sprinkled in the Utah canyon lands he loved. His pencil sharpener is bolted onto a bookshelf in my family's study room.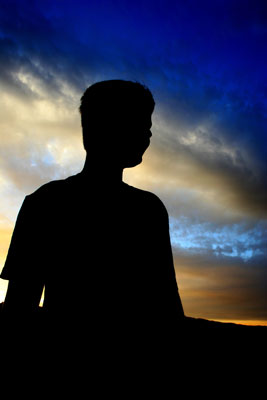 © Monica L., St. George, UT