Farewell Letter
May 23, 2017
We became synonymous with each other. You never saw one of us without seeing the other one. My name always followed your name in conversation and vice versa. It was me and you against the world. Until it wasn't anymore.

The beginning of the end came quickly; arguments and fighting became a sign of the times. The negativity began overruling the positivity. We had nothing in common anymore and we only talked to each other about random nonsense. I wanted to make it work, but you seemed to have no problem with the end of us. We had been through so much together and none of it seemed to matter to you.

I tried to make it work; I apologized and invited you out to our old hang out. You showed up, but left soon after. I felt defeated; all I wanted was us back. I didn't want to end things, I didn't want to forget things, I didn't want to lose you. But none of that seemed to matter to you, when all I got in return were single answers and blank stares.

You eventually told me why you didn't care about us anymore. It was because you hated the type of person I was, "the boy crazy journalist type with a love for sappy romance novels and ridiculous goals for the future." I am me, and you are you with an apparent hate for the life I had wanted for myself.

I guess that was when I stopped trying. I still care about you, and I wish you the best, but I can't cancel my "ridiculous goals" for someone who doesn't support and encourage me and those goals. I didn't need that extra negativity in my life about the thing I'm the most insecure about. You were supposed to support me, not bring me down.

I threw myself into my writing after you left. It's my safe haven; a place for me to be myself and to be insecure. I'm still the boy crazy journalist, but I don't think my goals for the future are that ridiculous. So consider this a farewell letter; a farewell letter to the end of having "ridiculous" goals and a farewell letter to the best friends that we're supposed to stay best friends way into the afterlife. This one is for you.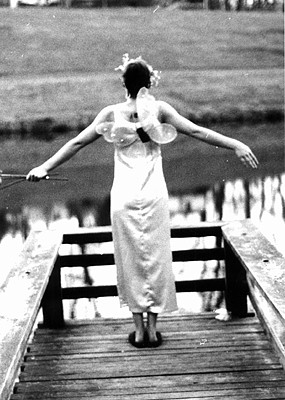 © Jessica T., Cincinatti, OH