Don't Shoot the Messenger
March 3, 2022
There she was, bright, yellow, there. I saw her in a patch of grass, alone in a cluster of ragged, sharp leaves. She grew. It was chilly, far too cold for her. My skin prickled and buzzed with the need for warmth and my hands rubbed my arms absent-mindedly as I stared.
I leaned down to her and my dry, cracked hand caressed her stem. I pulled. I ripped her out of the ground and held her in my hand, fragile and free. My hand was stained from the clotted earth tangled in her roots. The world stared at her with me, a marvel of nature. Humming proceeded to encompass my brain, crowding my thoughts with the possibility of spring. Oh spring! Winter had moved in, crowded my space with her junk, and laughed at me with cold, rotting breath. But spring… now spring would never do that. She's warm and funny, and I like the way she smiles. This dandelion meant she was coming!
But as I held her dying in my hand, a pang of guilt began to throb in my chest. She did not ask for this. She was but a messenger, a courier of sorts, meant to guide us towards the light of spring. Listlessness at my decision wracked my body. A restless tremor of negligence tickled at me and I shivered. I did not know what to do.
I made up my mind and gingerly, I placed her on the ground, her body limp and drained of color. Her golden luster dulled to a sickly shine as her life force drained onto the grass that cradled her corpse.
There was a ceremonious moment of silence, even the birds recognized what I had done and ceased to chirp. I shuffled awkwardly and stared at her as she took her last dying breath. Then it was over. She was dead and I was alive. The clouds began to progress again across the sky, obscuring the sun. In the gray of the day I walked on.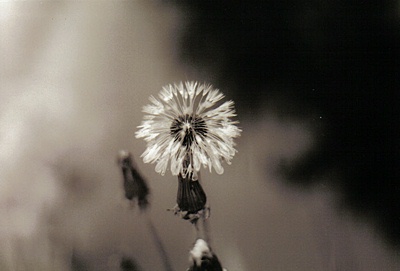 © Sarah S., Poland Spring, ME