Hurricanes
October 13, 2009
The silence was like an air-horn, bursting through the thickness that held our fear. All of our heads were down, as we lay down on the floor, our hands gripping the backs of our necks. Please, make it stop, please.... I thought, pulling up my shoulders to cover my ears, to kill the silence. People coughed, shuddered, cried all around me.

It was going to be a great day, and here we were, cowering in fear. The teachers finally stopped patrolling the halls, looking for missing students, and crouched by us. That wasn't good. Teachers weren't supposed to be scared, and all of my classmates and I knew it. I lifted my head, just an inch, and looked over to the front doors of our school. They were made of glass, and behind them horrible destruction was taking place.

Trees, electrical cables, everything was swirling in the air, or drowning in the river that had formed in the street. I bit my lip, and looked back down, I couldn't take watching my beloved city drown. My friend, Casey, sat beside me crying. Her mother had been out grocery shopping when this hurricane hit, I could imagine how worried she was. I myself, lived with my dad, who was on a business trip when this storm hit. I didn't have to worry like the others did.

Suddenly, the whole school shook, and a howl of wind could be heard. I shuddered violently, and looked around again. Now everyone was upset. The teachers were trying to comfort some of the younger students, and older students were texting their relatives, or friends near them. Something was up.

I checked my phone quickly, and saw I had a new message from Casey. None of us were supposed to talk when disaster struck, and texting was the only way we could talk. I opened my phone, and checked the message. " FWD: Everyone Evacuating. Whole city almost empty. Except for the schools!!! Waiting for storm to die, then special services coming 4 us." The message said. I gasped. They were leaving us behind?!?!

I frowned, and shut my phone angrily. The loud snap echoed through the air. Everyone's head whipped towards me, but I didn't care. I was glad for any break in this silence. This unbearable, painful, pain, that seemed to be choking me, seemed to make it hard to breath in.

The wind started howling again, and, in what seemed like slow motion, a tree smashed through the doors of our school. Glass went everywhere, people screamed, and we were soaked. The teachers shouted commands, and we all ran to the cafeteria. Our cafeteria had no windows, or any glass. It was a warm, dank place, that smelled absolutely awful. Yet to me, it seemed warm, almost comforting, because it was the only place that was safe.

A small child was by themselves, crying their eyes out. I slowly crawled over to them, and wrapped an arm around them. "Shhh, it'll be ok! Your going to be ok," I whispered to them. Suddenly, all the older kids were all going to the smaller children, comforting them. I smiled a bit, even in this disaster, people could be nice.

The sirens in our town were screaming like crazy, the silence broken by sounds of the world outside. The teachers started arranging us, so that the smaller children were wedged in between us older kids. Finally, their crying had subsided, and all that was heard was faint hiccuping. The sirens were slowing down, and we could hear things crash to the ground after being suspended in the air.

Other things smashed from the wind still going strong. Our science teacher slowly stood up, and started to explain what was going on. We had heard about hurricanes, but never imagined what they could do. Softly, all sounds stopped, the sirens shut off. Then we heard new sirens in the air, those of the ambulances.

The teachers had us stand up, and make our way over to the front doors. Buses had pulled into the parking lot, and so had the ambulances. Kids with cuts from the broken glass, headed to ambulances, and those of us that were ok, were told to get on the buses, and head to the evacuation building that was out of town.

Some people yelled about their parents, but the adults ignored them, pushing them onto the buses. But that was only part of the damage... Hurricane Katrina had hurt us all....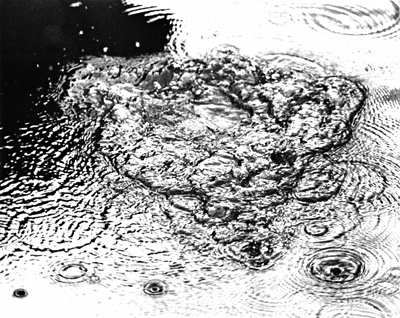 © Christina L., Great Falls, VA