Oasis
October 24, 2009
Every time I enter through the glass doors, a stately calm settles upon me. My senses slowly absorb the aspects of my surroundings: the leafy rustle of pages turning, the woody odor of paper, the sight of the surrounding books and magazines, the chill of the cool cloud of air. This is my sanctuary, the library. The placid atmosphere of the library gives me a place to relax. The books in the library make it a place to learn. After going to the library, I always leave with something new that I have learned while reading.



I spent much time at the library during my childhood and had an early exposure to the world of reading. My sister often jokes that I have been to the library ever since I could walk, which is why I enjoy going to the library so much. She worked at the library in her high school years, until she left for college. I always remember scenes from my childhood in which my sister would hold my hand and go around the library, showing me all the classics and the great books that I would read when I grew up.



After my sister left for college, I continued to go to the library and taught myself how to read, at the age of four. After learning to read, I began to enjoy reading for pleasure. Whenever I went to the library, I would pick out a book that my sister recommended to me and start to read. My choices of books progressed from Winnie the Pooh to Nancy Drew and Mark Twain. No matter what my selection of books was, my mind would leave the library and become a part of the world that was inside the book. Going to the library has become a part of my life. From my early childhood to my life today, I have seen the library as a means to relax and escape from reality. As the pages of my life turned, I continued to look to the library as my oasis.



People are always loosely gathered in the midst of couches and chairs, poring over books and magazines peacefully. There are three places that people enjoy reading in this library. The first place is a cluster of old cushioned wooden chairs near the entrance. It is more of a socializing spot than a reading spot. It is a cozy circle of five red couches by a window, good for daydreaming. It is often inhabited by romance novel-reading old people who I do not know. The final place is a secluded area next to a wood carving of a bear. There is one chair, usually unoccupied. The reader is usually undisturbed there.



The slow, steady flipping of the pages combined with the muted hum of the air conditioning ensures a secure atmosphere of peace in here, in my sanctuary, the library.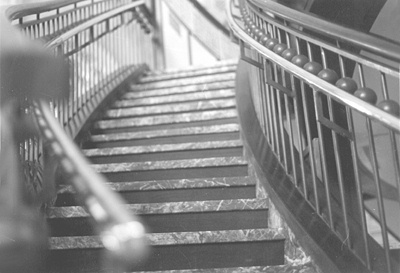 © April P., Marblehead, MA