running =)
March 9, 2010
I walk up the stairs, slower than a todler. Aware of all my muscles, embracing the pain, shooting down my legs with every movement, emracing it more than I embrace my lover.
For a minute, while I walk the stairs, everything and everyone id forgotton and I flashback to why I am so sore and smile.
The other day I ran after not running for while, never did I stop I just kept pushing harder and harder, faster and faster, breathing in the cold almost spring air that felt like a summer night. I turned up my music to block out my breathes but still concentrated on the feeling of my pulse and the acknowledgement of blood flowing through my veins. Inbetween songs I could hear the sweet lullaby of my footsteps on the pavement. My mouth watered and so I spit, but I did it in a certain fashion, one where i jump out and turn my head to spit behind me, to spit on what's behind me and the past. My stomach muscles dropped in to say hello and they never left me. It feels amazing and I'm running and never looking back. I'm sore and my whole body is re-introducing itself to me, every muscle, every tissue, every organ.
Then I hit the top of the stairs and reality catches up to me the way a baseball catches up to an unaware participant. The climb is over and the pain fades to. Only this time it has traveled to my head and heart where it rests the heaviest.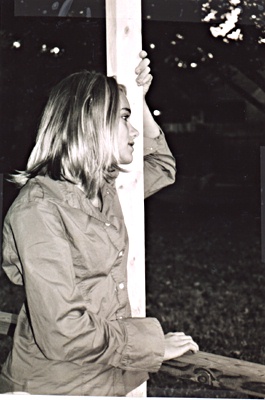 © Tiffany A., Southaven, MS