Box of Crayons
June 18, 2010
In this world, everyone has a favorite color. When we are using colors, we like to use them for our house to impress nature, arts to express our emotions, or any where in our environment to make it appealing to the eyes. Not only do we use colors, we also carry them to make the world unique and beautiful.
People consider the United States the "Melting Pot" of the world, because we are mixed with people of different ethnicities. The "melting Pot" is where all citizens should assimilate their race and traditions. When the architects of our republic were writing the constitution, they made a promise that all men, yes, black men as well as white men, would be guaranteed the unalienable rights of life, liberty, and the pursuit of happiness.
The comparison of a box of crayons to the human race might sound illogical to some, but these people do not understand the components of this world, which are so vibrant and full of unique colors. Picture this world as simply black and white. How dull would it be if people all had the same personality, ethnicity and culture? This world is filled with such beautiful colors that bring nature alive. However, every time the human race is divided by the color of their skin tone, the beauty of nature starts to fade away.
Yes, it can be hard to not be judgmental or prejudice. However, if we think of the teaching of every great spiritual leader we would remember, "everyone in the world is beautiful and unique because we are all created in god's image.' So it really does not matter what color we are, it is our personalities and talents that make us different, important and special.
We should stop causing conflicts and wars just for not sharing the same race thinking. Let us start acting like mature human beings and hold hands as we bow down to each other. We might not have the same color skin tone, but we do share the color red of the blood that runs through our body, and of the heart each one of us has to share.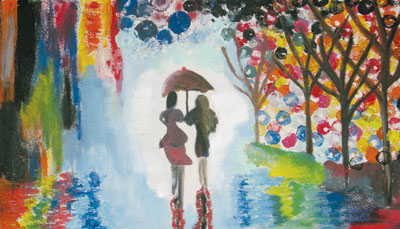 © Uzair M., Faisalabad, Pakistan