Crazy for a week.
September 12, 2010
If I don't let you see me feel this way, then that's good. Until it's not something I can hide and walk away from. Then I take a break. It's not a holiday. It's a bed in a hospital. It's a coffee pot running because she's been up since sunrise. It's sweat pants and music videos and stories. And they tell me, "don't get attached to this place, kid - not to us, not to here..."

He has lines under his eyes and around his smile, dark skin as if he sat in the sun every day of his life. Plastic cups of coffee clutter the coffee table. I have near nothing to say at this point. Just. Taking it in. The psychiatric unit of the hospital. Not a vacation. But then? Someone with such raw, undiscovered beauty shares earbuds with me. He is younger than me. He would have married her. But then he is distracted by my small hands, my small ears. I'm the one with both feet on the ground. Not strumming an invisible guitar in the corner as parents are speaking. Not on Lithium. I would have kept him if I could.

Then I think, as multiple hugs take over me from the discharging patients...just keep moving forward. We were like a family. And I was like the baby. You pet my head and let me pick the movie and made me peanut butter and jelly sandwhiches.

I curl up on the couch with my stuffy, until the doctor whisks me away, followed by a therapist, followed by a nurse, followed by a phone call. I make hot chocolate for us and get ready to leave.

Where to leave to? Most patients are either homeless or can't go back to where they came from. I leave and go to my mom's house. I go back to work the next week. I remember all the things I saw with you and in you. And the dreams you can't let rise, but they are birds with wings battering inside of you. It was always that fear of yours... Held you down.

But what about this... This is where I am called to confidence. This is where tears and how so many things have grieved me this year. Like living so many lives in this one short life so far but not really my own.

But what about this... My life is NOT my own. And I know God is leading me to to illuminated life through the roads and even...a few more trips back to the cave. If all I do is think of things in terms of me personally, then I'll never get out of the cave.

Cutting can't ever be the answer. He is jealous for me and I'm turning to something else for comfort. And I don't realize that Your love is so incredible when it comes to me. It is like being beautifully wrecked.

And what about this... Me jockeying for a position, me demandnig answers, and me tearing through my skin with a piece of glass - never glorified God in and of them... But instead of holding onto you with emotional attachment - if I let you go because you are like me, you are just like me - trying to make sense of this thing called life... Then that makes you a little more free.

Because I don't really know anything more than anyone else. It's a race to run and we're all in need of grace and peace in the need for the need.

I lose alot by steppng away from my emotions. "But that's my best friend, but that's my dad...but that's my..." And if I say, God is the love of my life and we all need to understand that better because that's the eternal and this stuff is only temporary - this will all pass sway eventually... But if I look at you for who you are with your spirit - looking to be revivied... And love you so easily and so effortlessly...

Then that fullfills the commandment. All I want in this lifetime is God and all I can hold is God and all I need is God. Because that's everything.

But if I lay more fear by the side of the road down, but if I stay convicted that God is my God who loves me and saves me in my today...

AND if I say "but what about me? and don't you see me? and how could you do that?" BUT then take another step forward and say, "it's over, and how are you...?" BECAUSE I feel like love is totally bigger than everything.

I remember some really great days in my life and I miss them but truth is I don't feel so emotionally attached anymore. At this point I just feel like, tired. I'm not suicdal and I'm not afraid of death and I'm okay with being wrong. But I think about the completion of my race and I get peace from thinking about this life being over and entering into the kingdom.

This life here is only temp and when God sees fit, He will bring me home. If that's the case, what do I do? I think, how can I live my life and live as a person so that you can say, "how great is our God..."

BECAUSE in the end, you will see.

So I result to know nothing but my Savior's life for me - proving that love is perfect because it's underserved and it brings me to a loss for words and carries me gently through the night, another day closer to being home.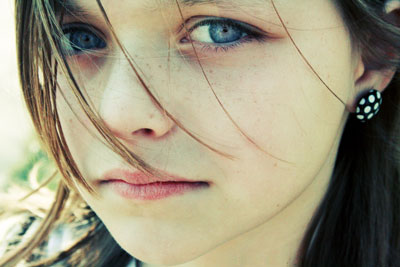 © Felicia R., Arlington Heights, IL