Please Stop
October 22, 2010
I remamber the day as if it was yeasterday, even if it was three years ago, i woke early in the morning to get ready. Today was when my mom was taking me and a friend to the fair. After i was ready mom loaded me into the car and headed over to my Mia's house. I had to wait a couple minuets while my mom spoke to Mia and her parents, but then we where off.
once we had bought our tickets for the rides, Mia and i had ran off to the farris wheel. It was a windy day, as i waited in line the wind whipped my hair, and different smeals assalted my nose. I could smell chilli dogs, pizza, and many others. as Mia Chated about what we where gonna do that day, i gazed at the other people getting on the farris wheel, was I really going to get on? I didnt like hights, they made me sick to my stomach, and when i ever did get on i alwase felt like i was falling and couldnt ever stop screaming. But Mia loved the farris wheel, and wanted me to experience it with her. as the line progressed i started to feel sick. The people screaming on nearby rides didnt help at all, and neither did all the food at the booths accross from us.
We gave the guy our tickets and stepped into the bucket thingy. Mia closed the door and smiled at me. "you are going to love this!" she screamed, just as the ride jerked forward "whoo!" Mia was screaming, she was having a good time, I on the other hand was dying. "Dont swing like that!" i was saying but she would'nt listen she said it was fine. we where on the top, waitng for more people to get on, and Mia started swining even faster. I heard the guy yelling at us to stop, but Mia just wouldnt stop! It was 2008, in Oklahoma City. When my best friend Mia, fell of the farris wheel.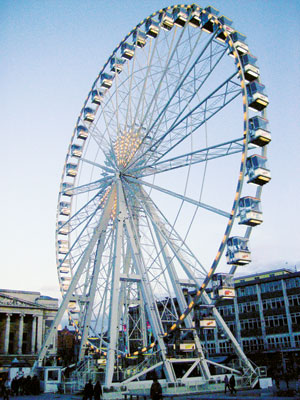 © Jess B., Nottingham, United Kingdom