Human
November 19, 2010
Why do bad things happen to good people? I'm on my knees looking for the answer. I discovered the trueness to this question or fact in seventh grade. It was still early in the year, but already I had made so many new friends. Including one that I will never forget. Her name was Cori Anderson. The day her brother was in a horrible car accident and ended up in a coma, we all feared the worst. None of us naïve young seventh graders knew how easy it was to lose everything. Especially for Cori. He life was perfect, her older brother was the quarterback for the high school football team, her parents were loving, caring and never fought she was beautiful, popular and the most outgoing funny girls I've ever met. Her younger brother Tobby had been adopted when he was 8, only 4 years prior to the tragic accident. He was very good-looking and smart He spoke fluent Russian. He was adventurous and very determined. Tobby loved anything dangerous and courageous, he loved pushing limits. This is why it was not a shock when the news came out about him being hit by a car in a dirt bike accident. But we all thought he would pull through and survive. He was Tobby Anderson, full of life and adventure and he was so strong.
I'd never seen Cori cry the way she had when she found out that her baby brother was dead. In fact I'd never seen her cry at all. She was my best friend and she was always so tough, like Tobby. They were a lot alike in many ways. When their parents adopted him the whole family moved to an RV in Mexico for a whole year of being home schooled. A time Cori or the other family members would never forget. Tobby was shy at first but quickly got to know everyone and thy fell in love with him right away. They got close and never wanted to leave but when Cori was 10 they decided to move back to San Diego to buy a house and enroll the kids in elementary school. Tobby loved life and learning and he took up skateboarding and soccer and football like his older brother. He immediately succeeded in school and had no trouble at all making friends. When Cori and I first became friends in the beginning of the year at middle school, it seemed like she had the charmed life and instantly we were best friends.
I remember the day of the funeral so clearly. Most her family members were dressed in black and mostly everyone was crying. Even people that didn't know him were shedding tears. We were all very emotional while we listened to the stories of Tobby Anderson. The 12-year-old boy that never lived passed 6th grade was buried under the ground we all stood on. The sun was hot that day but no one noticed the uncomfortable humidity. We were all too focused on the beautiful ceremony and stories they all had to share. Cori was bawling and ran off stage after giving her speech about how much she loved her brother and cried how she couldn't live without him. We were all speechless. The tough, hilarious bright and always happy Cori was crying her eyes out and dressed in all black, unlike her usually colorful attire. We all huddled in a circle around Cori and cried together. Afterwards we went to the park next to where the ceremony was held. There was music, dancing and ice cream. Everyone was having an amazing time. Even Cori was laughing with her friends. I will never forget the feeling that somthingwasn't right. We were all just crying about the death of such a young boy due to a tragic accident. How could we be laughing and having fun like this? How could we be having such a fun time? I through my half-eaten Popsicle on the ground, and I shouted at my friends, for laughing and dancing to the happy music. "What are we doing?" I asked, almost in anger. "Why are we celebrating?" My eyes watered and a few tears leaked out I wanted to cry but I tried to hold it in. Cori walked over to me and put an arm around my shoulder. She explained to me that we weren't celebrating his death; we were celebrating his life, his youth and his amazing impact that he made on everyone that he met. He was a happy kid and always had fun with everything he did, "He would've wanted it this way" she explained. He loved dancing and singing and laughing with his friends so we did theses things in honor of him. I still found it fascinating how normal people were acting. I was in shock and couldn't even breathe. Especially when I looked at the pictures of Tobby hung up on trees and nearby park benches, taken not too long before the accident. He looked so young and alive. His golden skin was gleaming in a picture of him wearing a bathing suit at the beach. The sun reflected off his stomach and chest. His hazelnut hair fell in his eyes and he smiled an adorable familiar smile that I remember from when I met him for the first time. His dark eyes were squinting from the sun. He was truly beautiful. Now he was just a memory.
I had only met him twice. Once when I went to Cori's house to do homework. He was so nice and polite which was a huge change from my chaotic brother and he was neat without a flake of dirt on his jeans, when my younger brother had a mud stain on his shirt no matter when or where he was. Cori and Tobby got along so well; they were perfect for each other. The second time was when Cori and I went to watch Jake, her older brother at a football game. Tobby had come along with us. His sandy hair was neatly combed and his blue shirt had a picture of Hawaii on the back. He talked a lot but had a genuine interest for what I had to say too.
Cori interrupted my memories "Come over and dance with us, were going to blow bubbles… they will symbolically go up to Tobby" She said, hiding the pain in her voice when she said his name. Although at first I was hesitant, she nudged me and gave me a please-for-me? Kind of look in her sad eyes I shook my head yes "of course" I managed to choke out.
The blur of laughing and screaming all around me was distracting so I shut the noise out and listened to just the song that began to play. Amongst the other happy cheerful music that was playing earlier, this one had sadness to it but also an uplifting message. The song was Human, by the Killers. It was in that moment that I figured out what that song really means. It's not just about dancing like everyone assumes. It has a much deeper meaning that was actually extremely relevant to Tobby. The song is about how we all have a short time in this world and just to simply enjoy life and be in the moment. That was the message Cori tried to explain to me at first but it was when the song started playing that I truly got it. Tobby had enjoyed life and lived it to the fullest, just like in the song and in his case; it was all gone in a moment. This song fit perfectly for who Tobby was and for that day, that sunny day at the park where we ate ice cream and blew bubbles while dancing and singing.

I will never forget that day. I will never forget Cori. At the end of the seventh grade year, her family moved to Pennsylvania and I never heard from or talked to her again. Five years have passed and even now, I think of Cori and wonder how she's doing. I think of Tobby and the many lessons he taught me just from simply living. Now whenever I hear the song Human, it takes me back to that day and the lesson that it taught me, to enjoy life and live in the moment.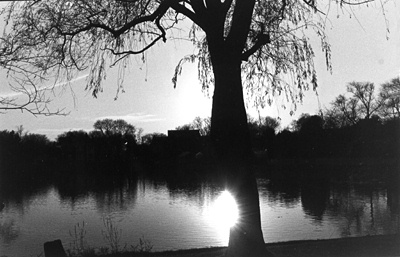 © Chuck K., Marblehead, MA