Much Is Hidden
March 21, 2011
They were good friends. Not best friends, but good friends nonetheless. They spoke often, as they had class together. She loved when they had intelligent conversations, involving extensive vocabulary and world knowledge. He was one of few she could speak to like this. They discussed topics such as language, history, and religion. Sometimes personal lives came up in conversation. She spoke of hers freely, but he preferred to remain private. They spoke of music and movies, but only those which had some sort of significance. They tut-tutted at the ridiculous garbage that the media called entertainment. Even their debates were intellectual, not simply mere arguments.

It really was a wonder they got on so well, seeing as they were practically opposites. He was liberal, and she conservative. He was agnostic, and she a strongly rooted Catholic. He was a dismally cloudy winter evening, and she a warm, bright summer afternoon. However, his pessimistic attitude did not deter her from her perkiness, rather it renewed the vigor with which she practiced her optimism.

Each half of this pair, odd as they were, immensely enjoyed the other's company. They shared much, but withheld much as well. For he would never know, that behind her sunny smile, hid a tornado of pain, just waiting to come out. And she would never know the depths of his despair and what exactly caused it.

Each read the other's poetry, as they sat near one another in English. All she could think about as she read his work was who in the world this girl could be, this girl with whom he was so in love, this girl who held his heart, this girl whom he was so passionate about, this girl who was lucky enough to be the subject of his beautiful, eloquent poems. She didn't know his thoughts on her poems, though he said he liked them. She imagined he wondered about the subject of her poems as well, though without the intense longing she felt.

Every time they spoke, her passion grew, until all she wanted was to explain to him how much she loved him. She wasn't able to, however, for fear of crushing this friendship they shared. Yes, they were good friends, but between them, much was hidden, never to be revealed.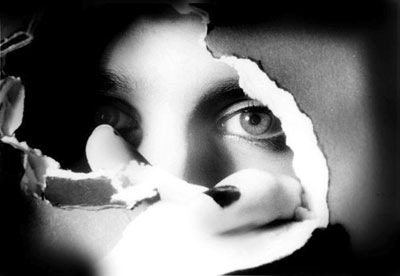 © Tabatha B., Peoria, IL