How He Saved My Life
March 31, 2011
"You see that?" Eric said pointing directly ahead of us. I looked at the stars searching for North Star, then I saw it shinning bright. "I see it! I see it!" I said. Eric smiled then sighed laying down on the cold mountain rock we were standing on. I looked down and him and he chuckled a bit showing his dimples. "What?" I said sitting down next to him. "I'm just thinking," he said. "About?" I questioned playfully poking his side. "Just the stars fading into the black the night. The way waves push and pull on the sandy beach. It makes me think that nithing really changes, it just turns into something more beautiful." He looked over and me. I smiled, "Eric, that didn't make much sense."
****
"Eric go faster! They're beating us!" I yelled as Connor and Seth blew past us. "I'd rather nit," Eric said over the four wheelers engine. I shook my head and grabbed for the gas thrittle, "Well I'm sick of eating dust!" I didn't see the dip. I pushed on the gas. The four wheeler hit the dip going much to fast. It caught air heading straight for the canal gate. The last part is still a blur. He grabbed my shirt and pulled me off the doomed machine. Just as Eric was about to jump behind me the four wheeler began to flip in the air. He was trapped. His head and the doomed machine hit the concrete gate. "Eric!" I yelled. Connor and Seth swung around and rushed over. Connor scrambled towards to canal determined to save his brither. Seth grabbed him and held tight as Connor fought to break through. But Seth knew, and I realized I did to. The gate was to powerful. When the rescue team came we all knew it was over. Seth, Connor, and I sat and silently cried on each others shoulders.
****
It's almost been three years since Eric's death. For a long time I blamed myself before I realized it could have been anyone. I guessed that God had a plan whatever it may have been. It's gotten a bit easier dealing with his death but there's still not a day I don't think about the things Eric taught me and the memories we shared.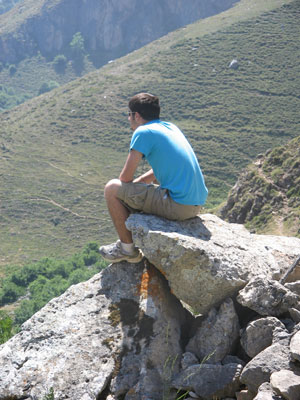 © Bonnie K., San Antonio, TX