With My Back Turned
October 6, 2011
Every passing day, it's there. It pulls on my shirt collar. It tries to trip me. Such a pain it is to bear. At practice it is even there as well. 

This object is the pain and sorrow that I bear with every waning day. During the school day I think of all that is wrong with my life and how much better it could be. I even have it bugging me after school hours.

 In practice I feel singled out by my coach. She's always there to say how bad I just did. That I should flick my hand better when I hit. How I missed two serves at our last game. And how I should have been watching the ball. I should have watched it or I wouldn't have been hit on the head. I would have watched it if my back weren't turned, if I hadn't been putting another ball away. If I had only been watching my teammates practicing their serves I wouldn't have been hit in the face with that volleyball. How could I with my back turned?

I think of the boy I like, and wonder if he has mutual feelings. I feel the loss of my grandmother and his mother. With all of this happening, how could one bear? How could someone realize what is happening when they have their backs turned? No one is able to notice what is happening behind their backs.

During school days, make a friend lose a friend. I tell my new "friend" whom is leader of her little clique, a secret. By the end of the day, almost the entire grade knows my secret. "Why did I think I could trust her?" I think to myself. How was I able to realize that something like that would happen, all while my back is turned?

In all of this, there is hope. A small shining light, yearning for my attention. A best friend to lift my spirits and tell me about how adorable Near is from Deathnote. Or my crush chatting with me quickly. Even if these are only for brief moments, I realize there is meaning to my life. Everyday, all day, these kinds of events occur. All with my back turned.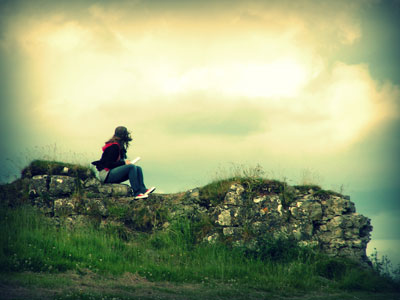 © Caroline C., Coronado, CA