Best Friend Aren't Always As They Seem- a note to isolationists
January 28, 2012
Isolationists have no one to talk to- they're the people that talk to their dogs and if you pick up their phone, there'll be two contacts- MOM and DAD. Maybe GRANDMA BETTY or UNCLE TITO.

They walk through the school hallways with their heads down, they're always early to their classes, and they have a bad time choosing partners for that unexpected English or Science project.

Isolationists, like everyone else, need someone to keep them company. They need a companion. When the old teddy bear that you hugged when you were 2 years old, or that action figure with the broken arm doesn't talk back to you, you pluck another isolationist that seems decent and roll with him/her.

This way, both of you pretend like you like each other, try and stay agreeable, and spend the rest of High School or Junior High pretending like the high-strung loner walking with you smells like daisies.

An isolationist has no choice, though. The "friend" they've chosen is their life raft. It's either fall off the edge into the darkness and gloom that is having no companion but the dog or cat that just stares at you with big beady eyes, or pretending the person that you secretly hate is your BFF.

I'm like this. I know this. I have one friend, and every time she talks to someone else, it's like fire is slowly crawling up my throat until I succumb to the puke. I've quized her- she feels the same whenever I "talk" (aka, lie that I have another person to talk to) with someone else.

This. Is. A problem. Houston, we have a problem.

And I'm SURE with a capital S that we aren't the only ones like this.

You know, at least subconsciously, who you are and where you stand.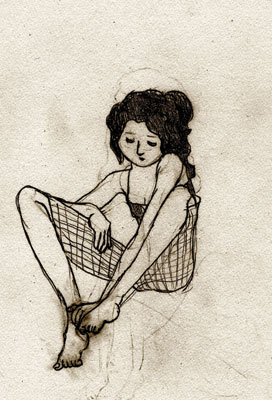 © Samantha W., Albany, NY