Learning Without Limits
March 14, 2012
While most kids were piling monster stacks of books into backpacks and sharpening their pencils, I was on my way to France. When the school bus comes each morning, I watch the kids climb aboard from my cozy spot in front of the fireplace. To some, this may sound like some sort of impossible miracle. It's my life.

I have been homeschooled my entire life. I am blessed to have the best of both worlds. My life is free of negative peer pressure and mindless bullying. I get to learn in a multi-age, diverse, real-world environment. I don't compete against other classmates for grades; my only competition is myself, and I try to exceed my own expectations every day. Homeschooling also provides an atmosphere of freedom and flexibility. I'm able to choose my own curriculums and discover learning methods that work best for me—it's awesome!

Unfortunately, there are many misconceptions. There are a great deal of people who assume that homeschoolers are stuck in their homes twenty-four hours a day, seven days a week. Contrary to popular belief, it's the opposite. I spend most of my time out in the world, experiencing, traveling, and observing. I'm not sitting at home in a cramped room, spewing algebra equations—although I do love math. Instead, I have tons of opportunities to meet and interact with kids my age—and even kids who aren't. While kids and teens raised in a traditional school setting learn to interact with their own age group, we homeschoolers are very adept at socializing with all ages, whether child or adult.

Some people also claim that homeschoolers will not be as well educated as their public and private schooled counterparts. In reality, studies have shown that the longer the student was homeschooled, the higher the percentile scores of their standardized tests. We are extremely lucky because we are able to learn at our own pace, and use our time more efficiently. For example, say that I was excelling in science, but falling behind in literature. Because I'd finish science quickly, I would use that extra time to catch up on literature. If I was in a traditional school, I would have to sit in science and wait until everyone else finished, then attempt to cram an extra hour of literature into my schedule. Not very productive.

And while some children and teens homeschool for religious reasons or due to special needs, there are almost as many reasons for homeschooling as there are homeschoolers. Interestingly, modern homeschooling has produced many successful and influential people. Here are a few: Albert Einstein, Thomas Edison, Pierre Currie, Charles Dickens, C. S. Lewis, Mark Twain, Daniel Webster, Ansel Adams, Andrew Carnegie, Sandra Day O'Connor and Agatha Christie. In addition, colleges welcome and sometimes even recruit homeschooled students. We tend to be more self-motivated and truly interested in learning for the joy of learning—not because of college applications.

Some of my best times and most remarkable memories happened at my local homeschool group. It was there that I met my some of my best friends, created entire villages under forsythia bushes, learned yoga, participated in chorus, learned about Women's Studies, taught my first dance class and indulged in some serious belly laughs. I love the support and camaraderie of my group, and the fact that I grew up with some of these kids. There is a definite feeling of family there, and it has shaped my life immeasurably.

We are a wacky, lovable, intelligent bunch. There, no one thinks being "nerdy" is a flaw. We think computer programming is cool, but also love fashion magazines. We can discuss current events and the media, but also rave about our favorite brand of skinny jeans. We do not have intolerance about race, sex, or sexual orientation. As homeschoolers, we don't label people.

Yes, this might sound wholesome or idealistic, but it is the remarkable reality of my life. As a small child, I spent long, sunny hours building "fairy houses," reading, and doing artwork. I learned a lot about myself at an early age, and can apply that to my life as a teenager.

As a homeschooler, I feel liberated. I have thrown of the limitations of traditional education and embraced a different way of life. Gandhi once said, "Be the change you wish to see in the world."

This is just the beginning.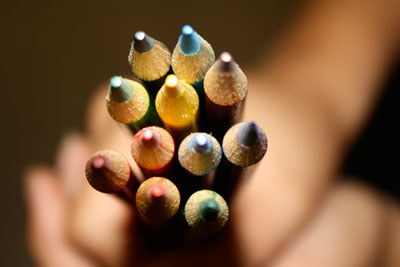 © Krista S., Newport Coast, CA