We Are Young
June 9, 2012
Frustration. Desperation. Exasperated sighs. The will to fight turns into the will to forget. The memories morph into mere recollections of brief exuberance. We are young. We are broken pieces. Do we bandage the damage or do we leave the cuts? The earthquakes of our screams crumble the foundation of our intimacy. The vacant internal silence echoes throughout my pulsating body. Each vein is extricated and stretched apart at every second of anguish evident in the pools of his lucid eyes. Our once careless conversation is now nothing, but words of emptiness. Our love is frugal and the "sorrys" are no longer significant. We are young. So why must we struggle? The wait to prosper never seems to break the cycle. We fight. We cry. But, this is us. We are the typical never-ending novel embedded with failures. There is no resolution, no end to the everlasting arguments that mend our relationship.

"We're meant to be together. Help me become a better person, for me and for us," you plea but neglect to act. Your useless promises and desolate stares led us to the path we would have never predicted. What has become of us? When will it end? Our naivety cracks the shell of sanity. On the brink of madness, we shatter glass almost as fast as we shatter all we've worked for. We strive to break what we love most, us.

"I'm lost without you," you repeat. Just so easily, I regret. The urge to take back wasted years infiltrates me. But we wont give up and I'll fall back into your arms. We are stitched together with the strings of insanity. We are stitched together with the idea that no one else can replace the other. We are young. This is our love.

Frustration. Desperation. Exasperated sighs. Maybe it's fate that drives us to each other. Because fate, by definition, is an inevitable and often an adverse outcome or condition. We've lost the enjoyment, comfort and passion that we not long ago believed in. We don't have much left, but yet our roads collide. If it wasn't meant to be, our roads would've split and we would've been left to remain the same strangers we were years ago. I'd like to believe that fate is the reason for our destruction. But, at least we self destructed together.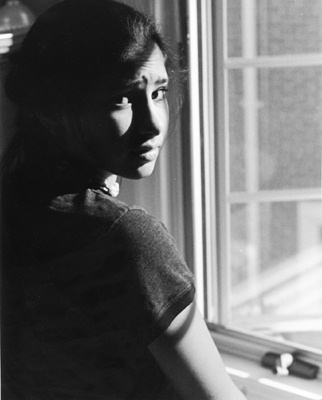 © Jennifer H., Bethesda, MD