Unrestrained
June 13, 2012
I guess my family's hair is all over the place, literally. It sticks out at odd angles, like we were all electrocuted at the same time. My mom's hair cascades down her back, into non-purposeful waves, leaving tufts of hair reaching for the sky. Straight at the top until it forms into waves leaving little ringlets at the end. Maybe it still doesn't know what it wants to be yet.
I used to sit in the little high chair at the hairdresser and ask for hair like my mom, pointing to her hip-length waterfall as the lady just laughed at me, shaking her head. When you're little, you want to be taken seriously, but no one does because you're too 'adorable'.
My father's hair grows like some kind of mutant vine. He has serious curls, though he cuts his hair too short for other people to tell.
My brother's hair, well, it's complicated. He has stick straight hair, as though someone glued a bunch of skewers on top of his head. It never seems to be cut right, though. Whenever he comes out of the shower, it's a new shape. Yesterday, it looked like an octagon.
My hair. Its curls have yet to be contained, like springs with an amount of power that cannot be measured. It's rebellious, refusing to be straightened by heat. It's not the soft, structured ringlets, but a depiction of the ocean in the middle of a great storm, my hairbrush the one sailboat unfortunate enough to be stuck in it. It keeps growing in volume even after it's been furiously stuffed into a ponytail.
It represents the person I want to be, interesting with wild texture. Maybe that's the reason I haven't gone insane and shaved my head yet.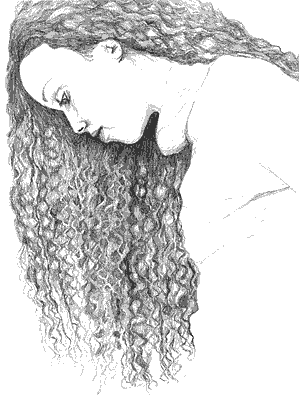 © Andrea S., Oakhurst, CA