To Write
August 20, 2012
I did not begin writing on purpose.

It all started as a complete fluke, a glorious accident. When I went to a local coffeehouse one summer afternoon, I meant to bring a book with me—I'm a voracious reader. As luck would have it, I forgot, and had nothing to do. Seeing my obvious boredom, my mother slid a single sheet of notebook paper across the table.

"Here," she said. "Write something."

I considered this; I could either sit and study the wall for several hours, or I could wring a few ideas from my brain and get them on paper, make them real.

I chose to write.

Casting about for a loose pencil, I thought for a while, genuinely intimidated by that expanse of immaculate white paper. Then I got it—my idea. The opening scene for a story. I was there—I could see the inky sky, feel the dry grass beneath my feet, and noticed (a little to my right and slightly behind me) a fox waiting for prey. It was the most extraordinary feeling and I don't believe I'll ever forget it.

There I sat, scribbling furiously on first one side of the paper, then the other, and soon I asked my mother for a second sheet. I was enchanted with the craft of storytelling and was constantly thirsty for more. I've heard writers say that characters are simply an extension of our own personalities, but I fell in love with my characters because they were so different, original and utterly unique. It truly set my soul on fire.

Every day since, I make a point of writing something—a word, a letter, eleven pages of a brilliant adventure—anything!

I come away from these experiences feeling deeply in-touch with my thoughts. Writing is freeing, it allows me to vomit the emotional contents of my soul onto the page without inhibition, and is infinitely satisfying and limitless. Like the relief of holding my breath underwater and finally coming to the surface, writing is my release.

It is also a conduit of my ideas and energy. While it seems like putting these on paper would aid in clearing the mind, when I sit down to write, a thousand more thoughts and tangents flood my head and all are trying to break free. It's as though the pencil becomes a lightning rod and I must guide the storm.

It's exhilarating, frightening and exquisite all at one…and from the bottom of my soul, I love it.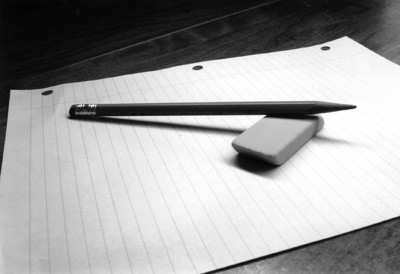 © Michael H., Mildford, CT