"It's okay"
August 29, 2012
"I'm sorry." "it's okay." The two phrases have been exchanged between my mother and I, during my 18 years thus far on this earth, I estimate upwards of 200,000 times. I have made more mistakes than most people have made in an entire lifetime, in my 18 years on earth, and I have had to apologize quite a lot. In turn, my mother has made her fair share of mistakes, or shown a general coldness and lack of enjoyment towards me and my sister. She has apologized when seemed fitting, it has always been "okay." 

     Until now. It's 130 in the morning, and I'm due to leave for college in 2 days. Tonight was my last night at work, a place that contained all my friends, my boyfriend, my world, and essentially the home I had never had. Realizing that I had to say goodbye to everything I cherished proved to be enormously challenging, and following the goodbyes I sobbed for upwards of 3 hours, unconsolable. I was given no options regarding where I would go, or if I could take a year off, and now I would be sent 3 hours away from everything that meant anything to me. Lying on the couch, I continued to think that it wasn't real, that I was going to laugh and realize that this was all some sort of sick joke.

     So when my mother, who had only been slightly more sympathetic tonight, came over to where her 18 year old daughter was lying on the couch in a fetal position, eyes shut; accidentally pulled my hair when she tried to hug me, the phrase "I'm sorry," immediately followed by my "it's okay," did not feel quite right. This "I'm sorry," was my mothers automatic apology for accidentally pulling my hair. To me, this phrase had the power to encompass her apology for putting me in the grief stricken state I am in, and genuinely show empathy. However, I am my mothers' daughter, and I know a fake apology when I receive one. In the moment, my irritation with my mother, the situation, and an enormous feeling of helplessness boiled over, and my sobs grew. I turned away from my mother, and clamped my eyes tighter shut. I was let down, and it was far from "okay."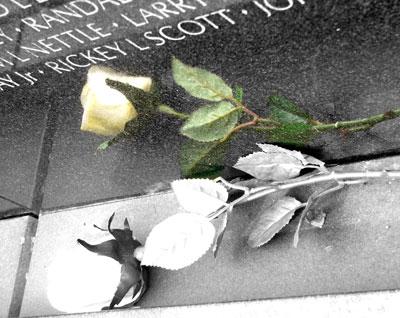 © Kimber E., Yorktown, VA