Broadened Horizons
September 21, 2012
The world consists of 6.8 billion people, creating a great opportunity for a diverse number of cultures to flourish. No two people in the world are alike, thus fabricating different ideas and ways of life. This all funnels into distinct cultures with contrasting facets. The key attributes of cultures include music, celebrities, sports and clothing. With people from all over the world at Phillips Academy, I had a unique opportunity to discuss the varying cultures with actual natives. From the experience, I have learned to open myself to the world and take the trail of intellectual curiosity.

It can be proven that all over the world, no matter where one resides, we can relate on a passion for music. As I step into Colombian Camila's dorm, I felt the pulsating of the music, like a heart pumping blood throughout the body. Camilla's cascading chestnut hair plays around her bronzed face as she dances to her native Colombian music. She turns my direction and asks, "isn't the rhythm of Colombian music great?" The melodies and harmonies orchestrated into a symphony of energetic and reviving music. The alienated music was drastically different from the mainstream American pop I was used to. As I desperately tried to yell over the booming music, I hear Camilla say, "The rhythm of Colombian music is great and you can even imagine the kind of parties we have in Colombia." Even though our music is polar opposites, it has taken a prominent front seat in Colombians and Americans alike.

Just like Americans idolize Hollywood celebrities, South Korea is indistinguishable, compared to America. On any given day in sunny Los Angeles, hundreds of bee-like paparazzi pester celebrities for candid shots of their hidden faces. Like America, Korean supermarkets have glossed and freshly printed tabloid magazines aligned in pristine rows. When I ask South Korean Lisa about Korean celebrities, she immediately jumps out of her wooden chair to animatedly describe them. Her coal-black eyes brighten with excitement as she tells me how "Korean celebrities are very similar to America's. Korean teenagers have pictures of their favorite actors and musicians, just like American teenagers." South Korea may be half way around the globe, but America and Korea have many parallels in regards to celebrities.

The genuine feeling of camaraderie over sports in America is equally experienced in Brazil. In America, New England Patriot flags' sway in the wind and children support their favorite teams by caking on hard paint to their faces. When I peak into Brazilian native, Melissa's dorm, I see Brazilian soccer posters pasted on the plain walls. Her lap top screen saver displays national pride for her favorite player Neymar, the star soccer player of Brazil. As I ask her about Brazil, her eyes intensely narrow in on my face, but quickly releases the stare. She settles on her bed and starts a long and serious conversation about Brazilian soccer. According to Gordon, "There is a lot of rivalry of the Brazilian soccer teams and sometimes people get killed at the games. For some intense soccer games, my father doesn't want to take me out of fear that I will get hurt. But in the end, sports bring us together. When Brazil was playing in the world cup, there was not a single car on the road." Differently from America, watching soccer in Brazil is a lifestyle. Brazilians are not only more dedicated to their soccer, but sports weave and connect the upper and lower classes. Sports can play a major role in bringing a country together.

American clothing has also crossed paths of all cultures and has altered traditional countries. In any American storefront, there are boundless stacks of vividly colored t-shirts and the slightest trace of rose. Places like Indonesia have deeply run traditions and values. But as time has progressed, more inhabitants have been dressing in American clothing. As I observed Indonesian native, Katyana's clothes, I noted her casual jeans and shirt style. Her hair was pulled back into a messy ponytail and her multi colored jean shorts matched her emerald-blue shirt. Katyana says the clothing in Indonesia is "the same as America. Even tribes wear t-shirts and shorts. But we still keep out traditions by wearing a Batik on Friday to show appreciation of Indonesia." Though Indonesian daily clothing has changed, they are still deeply rooted in their traditions and heritages. Its incredible to think that even in the most traditional places of the world America has still influenced those populations.

It has been a unique opportunity to talk to a diverse group of people from all over the world. As I learned the cultures of different countries, my horizons have broadened and I have opened a boundless new world of ideas and ways of life. My intellectual curiosity of the world has been unleashed and it's exciting to unfasten the jar of risks and opportunities. Diversity of cultures has lit a path of new inquisitiveness and experimentation for me, how will diversity shape you?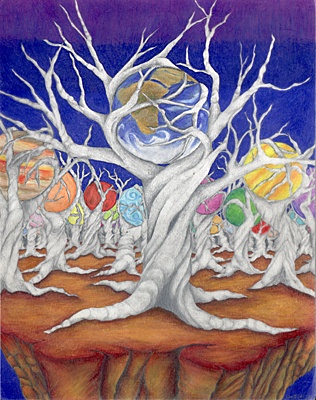 © Sara P., Lake Mary, FL