The Perfect Library
August 22, 2013
The ideal library would be about three stories floor to ceiling. If one entered from the main floor of the house, one would find oneself on a wide balcony with an ornate wooden rail all the way around. This rail would serve the dual purpose of protecting people who walk and read from dying, and allowing those who wished to see the grand magnificence of the library to see all three floors with ease. The outer wall, which would, by the way, be curved, would be covered with books from floor to ceiling, except in the places where tall windows with comfortable window seats and heavy curtains would take their place. At intervals there would be sliding ladders so that children and short people could reach the uppermost shelves. At one point the rail would gently curve into a spiral staircase that would provide access to both the first and third floors.

The first floor would be a dark, cozy sort of place with lots of dark wood and two fireplaces, opposite each other on the wall. It would have lots and lots of big, comfortable armchairs and couches, and even thick rugs so that if one was inclined to lie on the floor and read, this would be comfortable. There might even be a small machine from which would flow the life-giving substances of tea, coffee and hot chocolate, which would be served in mugs of large proportion.

The third floor would be outfitted with a catalogue of the other floors along a portion of its wall. Wall, in case you missed it, is not plural because the library is shaped like a courtyard, a tube with books around the walls and a great hole down the middle. Only the bottom story would have a proper floor. Anyway, apart from the catalogue would be a great many other books, probably great philosophers, ancient books, and satirical writings. Along with Shakespeare. The ceiling would be a great dome, with the top sliced off and replaced with a pane of crystal-clear glass, which would let in sunlight and be beautiful at the very same time. On this floor there might be some tables, and all in all the décor would be lighter and more modern. If one wished to do some very interesting and absorbing research, there would even be a comfortable couch on which to recline if that research took hours, or in the case of absorbing things like physics, days.

This library would probably average about 2,000 books per floor, in case you thought it would be small. In fact, it would fit quiet comfortably into the round tower of a castle I visited in Wales. The ancient wooden floors had entirely rotted away, so that I could cautiously peer out of a door on the third story and perfectly imagine this library, which would be just fantastically amazing and marvelous to have in one's home.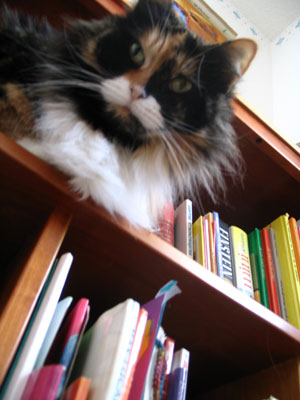 © Valerie L., Niskayuna, NY