Maddie's Gift
January 10, 2015
Breathe. In. Out. Hold it in. Relax. Breath. In. Out. Don't cry. Try as I might, emotions have a tendency to escape, and tears were swelling in my eyes and spilling over onto my face. I was numb. Too caught up to wipe them from my face, they dripped off my chin and fell to my knees. Looking back, I remember everything escaping me, thoughts of school were trivial, worries of busy schedules were petty. I seemed to deflate, until all I could hear was the unbearable silence echoing inside my emptiness. All I could do was breathe. In. Out. Breathe. Up until then, I really hadn't known anybody with cancer. The hardest part to come to terms with was that Maddie was only four years old. Four. She had yet to experience life, how could she fight for something she didn't even truly know?
I used to braid her hair. When she lost her beautiful, long, curly brown hair, it really sunk in for me. I reflected back on my life, I recognized that I was lucky to be living in a great town, going to a fantastic school, and living with a roof over my head and three meals a day. But I'd known that since a young age, when I began volunteering with my church in Dorchester. Knowing that Maddie was fighting for her life thousands of miles away where I couldn't help her, or braid her hair, I came to appreciate the small things. The little wonders in everyday life. As I walked through school, I thought, how fortunate I was to do so without being connected to machines, or being pushed in a wheelchair. As I ate dinner, I thought how lucky I was to not be taking medicine that'll make me throw it back up. As I complained about dirty or tangled hair, I thought how grateful I should be to have hair at all. Maddies didn't. I began almost hating myself for having what she couldn't.
But I realized, this wasn't about me, or the cancer, it was about Maddie.
She taught me something amazing. From thousands of miles away, Maddie, a four year old girl, gave me something I'll never forget. Here I was, thinking about everything Maddie had lost, looking at photos of her puffy face and hairless head, and I failed to notice one thing. In every single photo, one thing hadn't changed. One thing she hadn't lost. Her smile. I thought, how could you be smiling through all this pain, all this suffering, all the pills and needles and blood transfusions? Maddie chose to define herself by the way she chose to live, not by the way she had to. Cancer puts boundaries on life, but she chose to push those boundaries to their limits. She still has years of treatment and hundreds of pills to take, but she has no choice in the matter. What she can choose to do is smile through it all and appreciate the fact that she has a life to live and love.  I heard a quote somewhere, that we never know how strong we are until being strong is the only option we have.  Maddie may be 4 years old, but she has more strength than anyone I know, and I'm confident she has a long life ahead of her to share her strength and give the gift love to those lucky enough to meet her along the way.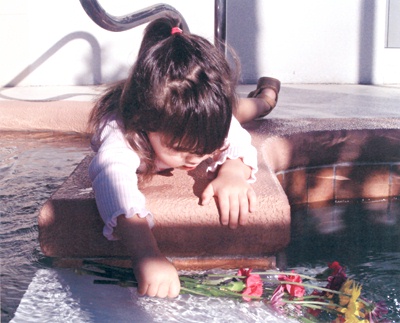 © Courtney C., Palm Coast, FL