Instead, I Ride Dragons
July 16, 2015
Most of my life is lived inside of my head.
I don't do sports. I don't hang out with my friends on the weekends. I don't go to the mall after school.
Instead, I ride dragons.
In fact, I become a dragon.
I breathe fire. I freeze towns. I destroy mountains, and I save the world once or twice or every day.
Inside my head, I am witty.
I can deliver speeches on the spot, complete with confidence and clever remarks. I can construct arguments so solid and irrefutable that everyone is left speechless and in awe. I can be so cool that the melting polar ice caps wouldn't be a problem anymore. I can write essays that blow everyone else out of the water. I can jump through a window to save someone from a burning building and land perfectly safe on the concrete sidewalk hundreds of feet below me. I can- well, you know.
I can do everything, inside my head.
And out here, in the world that is real?
What can I do here?
There are no dragons to ride, and I cannot be a dragon.
I can't breathe fire or freeze towns or destroy mountains or save the world even once.
I can't be witty.
I can't do speeches, written beforehand or not, with bravado and brilliant one-liners. My arguments are like the Titanic; no matter how wonderfully built and well-constructed they are, I only end up driving them into icebergs and sinking them. I am not cool, because I am not a dragon. My essays take forever, and at best, they are average. I would most likely die of smoke inhalation before successfully rescuing somebody from a burning building, or at least die from hitting concrete after jumping from a window hundreds of feet up.
I can't really do anything, much less everything, here in the world that is real.
So, instead, I ride dragons.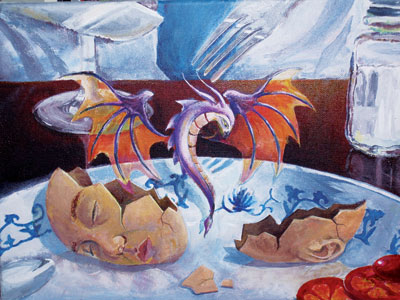 © Yukun Z., Toronto, ON, Canada