Aiming for "Par-fection"
MAG
I am addicted to that which has become the bane of my existence. This activity has cost me friends, emotional and physical pain, and sleep. Golf is an integral part of my life and has earned my respect for its fickle nature and glorious comebacks. Not long ago, I never would have imagined coming in sweaty and exhausted after spending four and a half hours with three girls I did not know, and looking up at the scoreboard to discover I had lost by one stroke. Curse that three-foot putt on the 16th hole!

Freshman year, I joined the golf team to appease my father, not knowing what challenges were to come. Until that point, I was content with making high grades in school, appreciating good friends and loving my family. Life had its challenges, but not like golf. It devastated me to work hours on the driving range before a tournament only to feel ashamed of the monstrous number next to my name on the wall. No matter how much I wanted it, my goal seemed unreachable. The more I lost, the more I worked. While friends were at the movies, I would be on hole eleven. While others slept, I would awaken at 5:30 a.m. for a tournament.

After two frustrating years, the golf gods decided to smile on me and my scores dropped into the 80s. Still, I was not satisfied. Only a number that started with a seven would do. Instead of simply learning how to hit the fairway, I had to focus on the game's finer points, such as chipping and putting. Over the next 18 months, I slowly began to drop strokes.

Golf is really a game of quarter inches. Funny, in the 5,832 yards that make up a golf course, it is the smallest measurements that count. To hit a dimpled, two-inch golf ball correctly, I must be precise. If I am a quarter of an inch too high, the ball tops off at 50 yards instead of the intended 200. If I am a quarter of an inch too low, the ball soars skyward. Being armed with this understanding of the physics of golf does not make it any easier to play, hence the challenge.

This year at a tournament in San Antonio, I finally had a breakthrough. I shot a 79! With scores in the 70s, I am achieving my goals and realizing the benefits of determination and sacrifice. However, by entering the 70s, I now face the greater challenge of shooting a score that begins with a six.

Golf teaches many lessons. It is not one that can be won or lost, but must be played, and play it I will!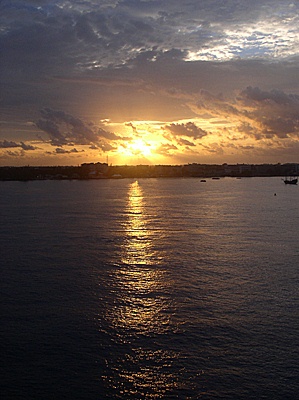 © Anonymous